Get in Sync!
Every once in a while I have to laugh while watching
movies.Why? Because of the stereotypical "sex scene." Her makeup is flawless, hair perfectly coiffed, and legs shaved in her lacy nightie. His six pack abs are glistening and you can almost smell his minty breath and sexy aftershave through the television screen. Background music accompanies their bodily movements perfectly, and as the rhythm crescendos, they look at each other in the eyes and mutually agree that they'll climax together at the exact same moment!
Sorry, it doesn't usually happen that way. Even though we haven't yet mastered the concept of perfectly timed mutual orgasms, we are learning how important perfect timing is to our sex lives when it comes to the very first baby step toward intimacy: going to bed at the exact same time.
I've been trying to discipline myself to begin winding down my workload earlier in the day, which can be a challenge to every woman, especially those of us who work at home and have our offices right under our noses 24/7. Here are just a few of my strategies that you might consider:
* Pressing bills, vital correspondence, calendar mapping for the next day, etc. – none of that gets put off until bedtime. I try to attack that kind of stuff before dinner.
* I tackle dinner dishes within a reasonable time after dinner instead of waiting until bedtime. Better yet, I recruit help with dishes so I can focus on other details that need my attention.
* I try to have my laptop shut down by 8 p.m., or else I'll just keep going and going, eating up any chance of quality time together.
* If TV is on the evening's agenda, we watch together, and therefore turn it off and walk away together. (My warmest gratitude to whoever invented DVR!)
* Our children, when they were school age, knew that if they needed us to review homework, it must be presented before 10 p.m. Lack of planning on their part does not constitute a "stay up late" emergency on our part.
* We have an evening ritual that signals us both that it's time to gravitate toward the bedroom. We put on a kettle of water for hot tea (Yogi Bedtime Tea is my favorite – makes you sleep like a baby!) and take it into our bedroom for a bedtime/teatime chat.
* If I'm not ready to go to sleep as fast as my husband, I just lay in bed next to him and spend the time reading and unwinding.

Although sex isn't always a direct result of this ritual, our chances are greatly increased! By simply synchronizing our evening body clocks to where we are more physically and emotionally available to each other, we open ourselves to every sexual possibility.At the very least, we're able to communicate face to face at the end of the day, which also helps your love life since a woman's favorite four letter word for foreplay is:
T-A-L-K!

Wishing you many synchronized bedtimes,
Shannon

Miss Part of the Series?
Hot Tip #2
Hot Tip #3
Hot Tip #4
Hot Tip #5
Hot Tip #6
Hot Tip #7
Hot Tip #8
Hot Tip #9
Hot Tip #10
Hot Tip #11
Hot Tip #12
Hot Tip #13
Hot Tip #14
Hot Tip #15
Hot Tip #16
Hot Tip #17
Hot Tip #18
Hot Tip #19
Hot Tip #20
Hot Tip #21
Hot Tip #22
Hot Tip #23
Hot Tip #24
Hot Tip #25
Hot Tip #26
Hot Tip #27
Hot Tip #28
Hot Tip #29
Hot Tip #30
Hot Tip #31
Hot Tip #32
Hot Tip #33
Hot Tip #34
Hot Tip #35
Hot Tip #36
Hot Tip #37
Hot Tip #38
Hot Tip #39
Hot Tip #40
Hot Tip #41
Hot Tip #42
Hot Tip #43
Hot Tip #44
Hot Tip #45
Hot Tip #46
Hot Tip #47
Hot Tip #48
Hot Tip #49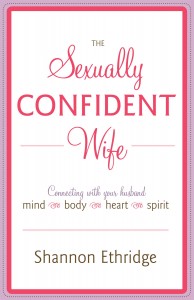 Excerpted from The Sexually Confident Wife: Connecting with Your Husband Mind*Body*Heart*Spirit by Shannon Ethridge. Copyright 2008. All Rights Reserved. Published by Random House Inc, New York, NY. Used by Permission. Not to be copied without Publisher's prior written approval.