Enhance Your Health with SEX! Many women mistakenly assume that they only need sex when they are frisky. But a woman's frisky radar often reads "Zero. Zip. Zilch. Nada." However, that doesn't mean she doesn't need to feel pair-bonded with her husband. In our house, we have numerous kinds of sex rather than just "I'm feeling frisky" sex. We have makeup sex to bring closure to disagreements… celebration sex to share one another's joy over an accomplishment… comfort sex when our skies are feeling a little gray… connection sex whenever one of us is about to leave town, etc.
Maybe you are thinking, But I'm too stressed out to have sex. Good news! Sex also serves as a stress-reducer, and studies show that regular orgasmic experiences can also help prevent cancer. So sex doesn't just feel good, it's also good for you!
So when you experience even an inkling of those warm fuzzy feelings, don't pull away or busy yourself with something else. There's nothing more important to your emotional (and physical) health than feeling this special connection with your special guy.
(Adapted from Chapter 2 of The Sexually Confident Wife)
Miss Part of The Series?
Part 1
Part 2
Part 3
Part 4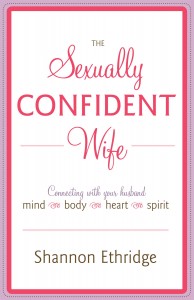 by Shannon Ethridge. Copyright 2008.  All Rights Reserved. Published by Random House Inc, New York, NY. Used by Permission. Not to be copied without Publisher's prior written approval.