LOVE Your Way to Better Health!
Let's get real. A dormant body is usually a sexually-disinterested body. But a body in motion is usually a body in the mood!Our bodies CRAVE movement, but sometimes we have to be intentional about getting it, especially with today's sedentary lifestyles. If I sat at my desk and didn't bother releasing any endorphins through the day with brisk exercise, well, I'd not only atrophy, I'd go NUTS! But as I stay physically active, I find I remain more mentally and sexually active as well!

Not only am I more sexually interested when I exercise, I sleep better (which keeps my libido from lagging), I look better (which gives me more confidence behind closed doors), and I feel better (which makes me a more fun-loving sex partner!).

What kind of exercise do I do? Whatever I feel like! Sometimes I walk or ride my bike… other times I attend a yoga or Tai Chi class at a local church or lift weights in their gym… and sometimes I get to enjoy my favorite activity – swimming!

How long do I do it? For as long as it's fun. Once the "fun factor" has wore off, I quit. The minute exercise becomes "drudgery" it loses its luster! As long as it remains a novelty, I'll keep coming back around to it like a well-crafted boomerang!

Wishing you strong healthy bodies, and strong healthy sex lives!

Shannon
Miss Part of the Series?
Hot Tip #1
Hot Tip #2
Hot Tip #3
Hot Tip #4
Hot Tip #5
Hot Tip #6
Hot Tip #7
Hot Tip #8
Hot Tip #9
Hot Tip #10
Hot Tip #11
Hot Tip #12
Hot Tip #13
Hot Tip #14
Hot Tip #15
Hot Tip #16
Hot Tip #17
Hot Tip #18
Hot Tip #19
Hot Tip #20
Hot Tip #21
Hot Tip #22
Hot Tip #23
Hot Tip #24
Hot Tip #25
Hot Tip #26
Hot Tip #27
Hot Tip #28
Hot Tip #29
Hot Tip #30
Hot Tip #31
Hot Tip #32
Hot Tip #33
Hot Tip #34
Hot Tip #35
Hot Tip #36
Hot Tip #37
Hot Tip #38
Hot Tip #39
Hot Tip #40
Hot Tip #41
Hot Tip #42
Hot Tip #43
Hot Tip #44
Hot Tip #45
Hot Tip #46
Hot Tip #47
Hot Tip #48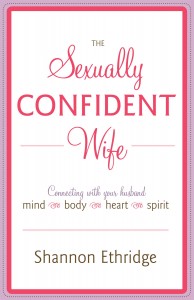 Excerpted from The Sexually Confident Wife: Connecting with Your Husband Mind*Body*Heart*Spirit by Shannon Ethridge. Copyright 2008. All Rights Reserved. Published by Random House Inc, New York, NY. Used by Permission. Not to be copied without Publisher's prior written approval.