…continued
Confidence Buster #5: Getting Sidetracked by Surroundings      
You wouldn't think that something as tiny and frail as a cobweb could derail a steamy sexual experience, but I know from experience that it can! We used to live in a log cabin made out of rough-cut cedar trees, which means that dusting the inside walls can give you major splinters! Although the cabin is a man's paradise, I had to grow to appreciate the rusticity of the house and learn to live with the "natural" look, including the occasional hard-to-reach cobweb on the vaulted ceiling and support beams. One day I complained, "I'm sorry, but it's really hard to concentrate when I'm staring up at a ceiling full of cobwebs!" Until those cobwebs came down, all future sexual encounters were going to be a chore for me, I could tell.
What distracts you during sex? Is it the peeling wallpaper? The mound of laundry on the floor? The stacks of books and papers on the bedside table? The icky color you picked out in completely different lighting at the paint store? Regardless of what it is, make it a priority to fix it, girlfriend!
Confidence Booster #5: Creating a Peaceful Private Sanctuary
Fortunately, we added onto the log cabin, creating a whole master level that I was able to decorate however I wanted. Tucked into the branches of a towering oak tree with an entire wall of windows for a natural view of the great outdoors, we wanted our third-floor master bedroom to have a tree house feel. With a color palette of soothing mossy greens and rich browns, we kept the furnishings simple with a comfy king-size bed, padded headboard, and satiny comforter, two small nightstands and lamps, and two overstuffed swivel chairs with a matching ottoman where we could play footsie during late-night conversations. We adorned one wall with three sconces, allowing us to illuminate the room with thirty glowing tealight candles and fill the air with a yummy vanilla smell. My bedroom became a great aphrodisiac rather than a distraction.
Perhaps remodeling and creating a whole new master bedroom isn't a possibility, but there are guidelines that you can implement to ensure that your bedroom resembles a sanctuary more than an asylum. First, establish the room's purpose. It's exclusively for resting and relaxing and enjoying good sleep and great sex. So get rid of anything that doesn't fit that purpose. Don't try to office in your bedroom. It only reminds you of all the work you should be doing at any given moment. Don't let the kids bring their toys in your room. That's what their rooms and family rooms are for. Don't let your bedroom become the laundry zone, or the scrapbooking zone, or any other zone that doesn't enhance your marital intimacy and fuel a sense of sexual confidence in you. If there's too much clutter in your room, de-clutter it. If the wallpaper bugs you, change it. If the color isn't soothing and sensual, paint it. If the noise from neighbors up above or traffic down below bothers you, put on a mood-enhancing music to drown out distractions. No matter what it takes, create a place where you want to let your hair down, get comfy, and get connected with your mate.
Miss Part of the Series?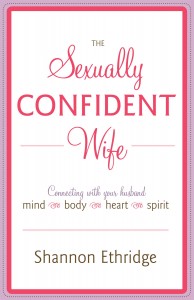 by Shannon Ethridge. Copyright 2008.  All Rights Reserved. Published by Random House Inc, New York, NY. Used by Permission. Not to be copied without Publisher's prior written approval.