As a frequent conference speaker, I often have the same horrific nightmare. I'm introduced by someone and called out on stage, but soon realize that I have nothing prepared to say. I hum and haw around a little bit and try to come up with something worth opening my mouth about, then exit stage left when I realize that it's no use. Fortunately, this nightmare has never become a reality because I've learned the importance of that famous Girl Scout motto: Be prepared! With the proper preparation, I'm never lacking for confidence as I take the microphone, speak my mind, and share my heart with my audience.
Two decades of marriage has also taught me the importance of preparation, not as a speaker, but as a sexual human being. You may be thinking, But sexual encounters should be spontaneous, not rehearsed! I completely agree. However, women would do themselves a big favor to recognize the importance of a little advance preparation for those spontaneous encounters. Why? Because if we don't feel prepared to entertain his spontaneous sexual advances (for whatever reason), we're far more likely to spurn them. In addition, we're far less likely to initiate spontaneous encounters with our mate if we feel unprepared for a positive sexual experience. Therefore, in the coming posts, we'll be examining what I believe are seven of the most common confidence busters, along with seven corresponding confidence boosters.
Confidence Buster #1: Burning the Candle at Both Ends                 
Our society places such value on busyness. It seems as if our identity as human beings comes not from who we are as a person, but from what we do with our time. The underlying sentiment is that the busier you are, the more important you are, and the more important you are, the more valuable you must be. Take a look at many women's planners, and their daily agenda looks something like this:
7:30 a.m. – Pack kids' lunches and get them off to school
7:45 a.m. – Deliver dog to vet and drop off the car at the shop
8:30 a.m. – Work an eight-hour day, running errands at lunch
6:00 p.m. – Help the kids with homework
7:00 p.m. – Make dinner and do dishes
8:00 p.m. – Fold and put away laundry
8:30 p.m. – Bake and frost cupcakes for tomorrow's soccer practice
9:00 p.m. – Open mail, pay bills, return phone calls and e-mails
9:30 p.m. – Pack briefcase and set out everyone's clothes for the next day
10:00 p.m. – Fall into bed exhausted!
Notice something missing? When does she have time for herself? When does she have time for her husband? Where will she ever muster the energy for sexual intimacy to enhance their marriage or satisfy their personal needs for pleasure and connection?
While many individuals wear their busyness like a badge of honor, realize that there's no brownie button for being a burned out woman. And when we choose to burn the candle at both ends, burnout is inevitable. Don't allow busyness to rob you or your marriage. Develop a Girl Scout mentality and prepare yourself to reserve some energy for what's really most important to you.
Confidence Booster #1: Reserving Energy for Life's Priorities
Chances are if someone asked you who the most important people in your life are, you'd say your husband and children. And while our family certainly has domestic needs that we often have to make a priority in our day, there's nothing your family needs more than for Mom and Dad to have a healthy relationship and be happy with one another.
If your days and weeks are incredibly full, relying on spontaneity for your sexual encounters may require as much wishful thinking as winning the lottery. Be intentional and schedule a little quality time together if necessary. With a little bit of energy dedicated in the right direction, fifteen to thirty minutes at least two or three times each week can feel like an emotional and sexual feast! Are you an early bird? Then set your alarm fifteen minutes early and plan on some sunrise fun in the sheets! Or maybe a little late afternoon delight, while the kids are playing outside or watching cartoons, is your prime time for sexual play! If you're more of a night owl, that's okay, but be careful to go to bed early enough to enjoy some real quality time together before you run out of gas and become a bleary-eyed zombie.
Once you settle on the best time for your romantic rendezvous, make everything else work around that commitment. Think of creative ways of saving time and energy for these intimate times together.
Also, consider how your children can help free you up to be a more sexually confident and connected wife. Once my children turned ten years old, they each had a daily chore and became responsible for their own laundry. This gave them a sense of pride and accomplishment, while it let me reclaim that time and energy.
continued…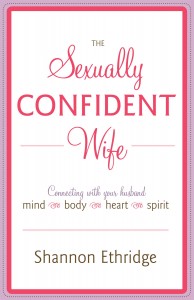 by Shannon Ethridge. Copyright 2008.  All Rights Reserved. Published by Random House Inc, New York, NY. Used by Permission. Not to be copied without Publisher's prior written approval.