When He Wants More
There's also a wide variety of issues that could be draining a woman of her sexual energy, which ironically aren't that different than the list for men — pornography and masturbation, depression, stress, and other emotional roller-coaster rides due to work or family, or health and weight issues robbing her of physical energy, etc.  And the remedies for these issues aren't very different either.  Sometimes we simply need to recruit the help of a trained professional to overcome the hurdles holding us back in the bedroom.
But I find that there's a common "myth" that women have come to believe about female sexuality, and I believe it's the number one thing holding most women back when her husband wants to be sexually intimate more often.  What is that myth?  I can name that tune in three words: "Good girls don't!"  Isn't that what we're told . . . over and over and over?  By parents who truly loved us, but were more concerned with us getting pregnant and tarnishing the family name than raising us up to be sexually healthy wives!  I still cringe when I remember my mom chanting, "He won't buy the cow if you give him the milk for free!"  (Which granted, can be true, but I never liked being compared to livestock.)  My dad would also jokingly call out from the porch as I was leaving on dates, "Keep your legs crossed and your panties on now, you hear?"  What I actually heard was, "Be a good girl!  Don't have sex!"
If you received a similar message growing up, perhaps you're like me.  I rebelled as a single gal, trying to prove that good girls DO have sex!  But then I got married, and I didn't want my husband to think I was a "bad girl," so my sexual pendulum swung in the opposite direction.  My lifestyle fully supported the notion that Satan's favorite strategy is this:
Make single women think that they can't live without sex. Make married women think that they can.
But sexuality isn't Satan's domain.  He borrowed it from God, and has been distorting it since the book of Genesis.  According to God's sexual economy, single women can live without sex, and married women can enjoy it — freely!  No guilt, no shame, no inhibition!  So rather than "Good girls don't!" rolling around in my subconscious, my new mantra has become:
Good (married) girls do have sex!  They do it often, and they do it well, and they enjoy it!
A similar myth is that "Sex is just something women should do for their husbands.  We don't really get anything out of it."  And that's why it feels like a chore to most wives.  Literally, I've had some women tell me that if they had to choose between sex and sweeping the floors, bathing children, or folding laundry, they'd pick housework over their husbands.
If you fall into this category, may I please give you a news flash?  Women get a lot out of sex!  Or at least they should be.  In addition to the mental, emotional, and spiritual health benefits women derive from marital intimacy, it can even be argued that women get just as much physically — perhaps even more — out of sex than men do!
Although Sigmund Freud accused women of having "penis envy," I completely disagree that a guy's body is designed to experience more sexual pleasure than women.  Why?  Consider these facts:
* Women are capable of experiencing one sexual climax after another (referred to as "multiple orgasms") until she's decided she's had enough, whereas men must sit things out sexually to recuperate before experiencing another round of pleasure (referred to as a "refractory period").
* Women have two ways to experience orgasm (clitoral and G-spot orgasms), whereas men only have one basic way.
* The clitoris is estimated to contain approximately 8,000 nerve fibers, which is more than twice as many nerves as are in the male penis!
Yeah, God loves us that much, ladies, and intends for us to enjoy sex every bit as much as our husbands!  Perhaps maybe even twice as much, huh? So I'm simply not buying the "penis envy" concept.  Natalie Angier, author of the book Women: An Intimate Geography(i), obviously shares my sentiment.  In response to the notion of penis envy she says, "Who would want a shotgun when you can have a semiautomatic?"
Miss Part of the Series?
Reference:
(i)Excerpted from Shannon Ethridge, Every Woman's Marriage (Colorado Springs, CO: WaterBrook Press, 2006),185-186.
(i)Natalie Angier, Woman: An Intimate Geography (New York: Anchor Books, 1999), 63.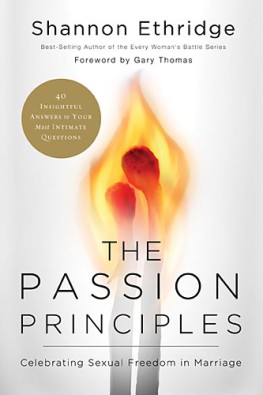 Excerpted from 
The Passion Principles: Celebrating Sexual Freedom in Marriage 
by Shannon Ethridge. Copyright 2014. All Rights Reserved. Published by W Publishing Group, and imprint of Thomas Nelson, Nashville, TN. Used by Permission. Not to be copied without Publisher's prior written approval.