…When She Wants More (continued)
Ray's words also confirm that there are often emotional issues that dampen a husband's sexual passion. He e-mails:
"Sure, I want a passionate sexual connection with my wife just as badly as the next guy, but it takes more than a little physical stimulation to make up for the hurt that she causes me before we ever go to bed at night.  My wife's 'constructive criticism' is usually anything but constructive.  Her expectations are so unrealistic that no man could ever live up to her standards.  She uses the Bible as a weapon against what she perceives as my shortcomings.  When I offer to pray with her, she feels the need to pray out loud (obviously both to God and to me) for my many weaknesses.  Women assume that our hearts and penises are made of steel and completely disconnected from one another, but they are not.  It can be just as difficult for a man to get aroused by the woman who makes his heart grow cold as it is for a woman to open herself sexually when she feels no intimate connection with her husband.  There's been a lot of emphasis on how men and women are different, but we're really not that different when it comes to needing to feel somewhat appreciated and affirmed in order to feel sexually aroused."
Ray is right. There's much more to pleasing our husbands than just being willing to engage in intercourse.  Physical pleasure should be the dessert enjoyed after the appetizer of appreciation, the entrée of encouragement and unconditional love, and the side dish of respect.  Any man who is starved of those things and only given dessert will eventually become an undernourished husband.
Of course, a man's lack of interest may simply be that he is aging, and part of the aging process means that he doesn't produce as much testosterone, the hormone mainly responsible for our sex drives.  The problem is that women may be approaching their sexual peak (often in her forties or fifties) just as a man is slowing down!  It can seem quite unfair!
So my gentle reminder to men is that even if you feel your sex drive slowing down, pay attention to what your wife's sex drive may be doing.  Even if a man loses his ability to maintain a penile erection, that doesn't mean that all the fun has to come to a screeching halt.  She still has sexual needs and desires.  And you still have perfect use of your fingers, your hands, your lips, your tongue.  Most wives can sympathize with a natural decline in erectile functioning as you age.  What they don't understand is how their husbands can choose to ignore or reject them sexually, insisting on bench warming when she's still very much interested in playing the game.
To be continued…
Miss Part of the Series?
Reference: (i)Excerpted from Shannon Ethridge, Every Woman's Marriage (Colorado Springs, CO: WaterBrook Press, 2006),185-186.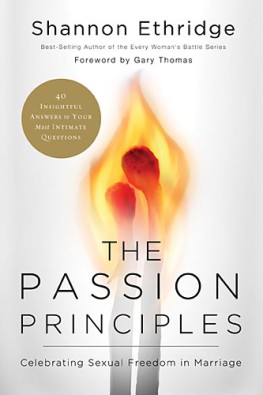 Excerpted from 
The Passion Principles: Celebrating Sexual Freedom in Marriage 
 by Shannon Ethridge. Copyright 2014. All Rights Reserved. Published by W Publishing Group, and imprint of Thomas Nelson, Nashville, TN. Used by Permission. Not to be copied without Publisher's prior written approval.