If you want to make sure you're not poking holes in your own bucket of marital bliss, discern which of the three attitudes describes you — stingy, fair, or generous:
1. The Stingy Spouse is one who, quite frankly, feels as if the world revolves around them.  Their mate exists mainly for the purpose of meeting their needs, and they get upset when this isn't being properly demonstrated on a regular basis.  He or she might sound something like this:
"Where's dinner? Where's my clean laundry?"
"Why is the house such a wreck?  What have you been doing all day?"
"Why don't you make more money?"
"Why don't you help me with the kids more?"
"Why aren't you willing to have sex with me more often?"
"Can you not see that I need you to ______________?" (Fill in the blank)
2. The Fair Spouse is a huge improvement over the Stingy Spouse.  The Fair Spouse is happy to shoulder  their fair  share of the marital/parenting/domestic load.  But they have an ulterior motive.  They subconsciously keep score to make sure everything stays "Even/Steven," between them.  So this person only doles out attention and affection in direct proportion to how much he/she feels their partner deserves it on any given day.  This husband or wife may sound something like this:
"I took care of that yesterday, so why aren't you taking the initiative to do it today?  It's your turn!"
"I'm the one who makes most of the money, so why shouldn't I get to decide how we spend it?"
"If you would help more around the house, I wouldn't be too tired to have sex!"
"How can you expect me to _____________ when you won't __________?"
3. The Generous Spouse is one who exemplifies the desire to serve, rather than seeking to be served.  It's never about keeping score to make sure things are fair.  Rather, it's about earning brownie points by seeing how often and in how many ways they can delight their mate.  They are very effective at inspiring cooperation rather than requiring it, which is a far more effective approach.  Some examples of what this husband or wife might sound like are:
"Is there anything I can do for you to make life a little easier right now?"
"You've been working hard lately.  Why don't you take a few hours this weekend to recharge your batteries?"
"I've been having all kinds of racy thoughts about what I'd like to do to you tonight!"
 "All my emotional eggs are in your basket, babe.  You're IT for me!"
Of course, sometimes we exhibit all three of these attitudes in the same day, but what would it look like if our main goal in marriage was to strive toward being that Generous Spouse as often as possible?  What if pressing the pause button to give thoughtful consideration toward some way to bless our mates became a natural part of our day, like brushing our teeth or making breakfast or feeding the cat?  I think that through such simple endeavors, we'd discover that the real secret to staying together forever is simply to have a wild, passionate love affair . . . with your spouse . . . every single day.
Missed Part of the Series?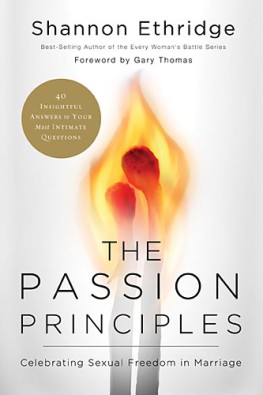 Excerpted from  The Passion Principles: Celebrating Sexual Freedom in Marriage   by Shannon Ethridge. Copyright 2014. All Rights Reserved. Published by W Publishing Group, and imprint of Thomas Nelson, Nashville, TN. Used by Permission. Not to be copied without Publisher's prior written approval.