"Baby What a Big Surprise, Right Before My Very Eyes" (Chicago, 1977)
In case you haven't figured it out already, men have two small round organs that kick their sex drive into high gear! You might think they're located in his pants, but the ones I'm referring to are actually in his head. A man's eyeballs are all that he needs to get his motor running! Are you adding fuel to his visual tank, or expecting him to run on empty much of the time? Be honest. Imagine the past 48 hours. How have you dressed and acted around him? Has he had good opportunities to drink your sexy body in through his eyeballs? Or does your hiding behind frumpy clothes leave his engine running idle? Or worse, does your low self-esteem leave him feeling overwhelmingly tempted to look at images of other, less inhibited women?
Let's be real, girlfriends. There's nothing sexy about an inhibited woman. For a man, it's all about exhibition, not inhibition! Their fascination with female exhibitionism is why porn magazines, movies and websites are so popular with the male species. In pornographic images, you never see women hiding themselves in shame, only women revealing themselves brazenly.
While it is never a wife's fault that her husband turns to pornography rather than to her for sexual gratification, we do possess the power to lessen his desire for it. How? By embracing a sexually confident attitude about our bodies and giving him all of the visual gratification he desires. In other words, leave the lights on! Throw the covers off! Hiding under blankets in the dark can be fun on occasion, but it's far more visually stimulating and sensually intimate for a couple to make love in full view of one another.
Because one of a man's greatest sexual needs is to gaze upon his wife's scantily-clad or nude body, consider these eye-popping, tantalizing techniques to stimulate him visually:
*Leave the robe in the closet. In public parts of the house, by all means, be modest in case one of the kids walks in the room or the UPS delivery man peeks through the window on his way to the front porch. But in the privacy of your own master bedroom and bathroom, why do you need a robe? It just hides what your husband is really eager to experience – an extended glimpse of your voluptuous body. Get comfortable in nothing but your bare skin or sexy underwear, and assure him that he can be comfortable indulging in a long, hard stare whenever he wants one.
*Dance or strip for him! Make getting naked in front of your husband a ritual at your house, entertaining him with an eyeful of erotic movements.  Another fun option is to initiate an old-fashioned game of strip poker! You might enjoy it so much that you decide to keep a deck of cards in your nightstand drawer for future use.
*Make your own movies! At a recent conference, one woman wrote a question on a piece of paper and handed it to me privately. I felt it was such a valuable question that it deserved to be shared with everyone, so I read it aloud from the stage. "Is it okay for a married couple to make their own private movies using their own digital camera?" My answer? Why not?  IF you're comfortable with the idea (and granted, some won't be, and that's okay!) don't hesitate to set up a tripod in the corner of the room and embrace your role as the sexy star of this show! Strike a pose and invite your husband to take a few up-close and personal still shots. View the pictures and movies together to add some excitement to your lovemaking. Just make sure you delete them all before loaning your camera to your teenager!
If you simply can't picture yourself engaging in the efforts we've outlined in this series to actively pursue your husband in an enthusiastic way because of your feelings about your body, I encourage you to return to chapter 7 of The Sexually Confident Wife for a refresher course on befriending the body-image bear!
Miss Part of the Series? Catch Up Here!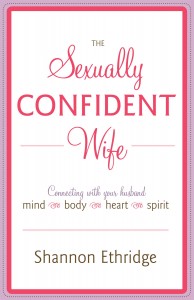 by Shannon Ethridge. Copyright 2008.  All Rights Reserved. Published by Random House Inc, New York, NY. Used by Permission. Not to be copied without Publisher's prior written approval.