When you hear the term "missionary position," what comes to mind?  If the position part of the term strikes you, you most likely envision a couple facing one another horizontally and having intercourse while the man is on top.  If the missionary part of the term strikes you, perhaps you envision devout religious people spreading the myth that to engage in intercourse in such a way was the only acceptable way in God's eyes for a couple to have sex.  Or perhaps the term evokes completely different images altogether for whatever reason.  Maybe this is one of your favorite sexual positions that really floats both of your boats.  If so, don't let me discourage you from enjoying it!  However, in the spirit of maximizing sexual fulfillment in your marriage, I want to challenge you to think outside the missionary position box…
Do you want to know what comes to my mind when I hear the term "missionary position?"  Honestly, I think of lazy women and bored men.
I'm not saying this position can't be fun and pleasurable, but let's be honest.  Often times it's utilized for lack of creativity or energy.  At the end of the day, he's feeling frisky, and she's feeling exhausted.  He attempts to initiate.  She grimaces on the inside, but succumbs to his advances only if he's willing to do the work.  With the lights off and the covers up, she spreads her legs, he rolls over to mount, and wham-bam, thank-you-ma'am, we have intercourse.  But where's the passion?  The energy and excitement?  The playful titillation?
Maybe I'm over-dramatizing just a bit, but if we're honest, this is often how our sexual relationship plays itself out.  All of the fun, frivolity, and fulfillment get lost in our sexual laziness and relational apathy.  But it doesn't have to be that way.  We can have extremely rewarding sexual experiences if we're willing to move beyond the missionary position and incorporate some more tantalizing sexual techniques into our repertoire – techniques that we can implement both inside and outside the bedroom.
If you're not sure where to begin, let's start with some of the basics, focusing on what turns him on most and brings you great pleasure in the process.
I asked my husband to complete this sentence in at least five different ways:
"What really gets me going sexually is…"
Being a typical red-blooded American male, I believe his honest responses speak for most men:
1.  When you give me that "I want you" smile. 
2.  When you kiss me – I mean really kiss me.   
3.  When you reveal parts or all of your body for my viewing pleasure.
4.  When you show me you're into it by initiating creative sexual positions.
5.  When you touch me in ways that you know send me through the roof!
In the coming posts, we'll explore these five responses and imagine how we can incorporate a few more tantalizing sexual techniques into our every-day existence, enhancing our sexual confidence and our husband's confidence as well.
To be continued…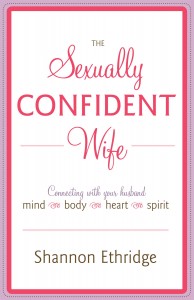 by Shannon Ethridge. Copyright 2008.  All Rights Reserved. Published by Random House Inc, New York, NY. Used by Permission. Not to be copied without Publisher's prior written approval.