Some women enjoy sitting in a comfy chair to meditate for their quiet time with the Lord. Not me. I either get distracted thinking about all the things I should be doing or I get sleepy. I enjoy walking and talking with the Lord. I start by stretching and taking deep breaths, thanking God that He's given me another day to be alive and fully functioning. Drinking in the beauty of the towering trees, inhaling the aroma of wildflowers, feeling the breeze caress my face, I commune with God outdoors during my walk in a way I never could otherwise. As I walk, I talk to Him about five things:
* Adoration (telling Him all the wonderful things I love about Him, such as how His mercies are new every morning, His incomparable strength, His compassionate character, and so on)
* Confession (acknowledging the many ways I miss the mark and asking Him to reveal anything I've done or attitude that I've had that has caused Him to grieve)
* Thanksgiving (expressing my gratitude for the multitude of blessings in my life)

* Supplication (asking for a special blessing or His divine guidance in certain matters)
* Others (intercession for my family and friends, the women God has called me to serve, my coworkers, and anyone else God brings to mind) 
You might wonder, "How do you remember all that?" With the acronym ACTSO — Adoration, Confession, Thanksgiving, Supplication, and Others — I ACT by praying SO that I can feel connected to God. And His response is sometimes audible, not to my ears, but to my heart. As I confess, I often sense Him comforting me, saying, "It's okay. I'm not going to let that come between us." As I ask Him for guidance, He usually steers my mind toward a solution I hadn't thought of before. As I pray for others, He regularly prompts me to do or say something specifically for their benefit. This response time is a vital part of my prayer life. He already knows what is on my heart without my saying a word. I need to make time to listen to what is on His heart because without listening, I'll never have a clue. God often reminds me of this as I am walking and rambling on and on. Sometimes by the time I reach the two- or three-mile mark on my four-mile hike, I'll sense God saying, "Remember to leave Me some time. I've got a lot I want to say to you today." Does this make me feel special that the God of the universe wants time to talk specifically with me each day? You bet. And He wants to talk with you each day as well. Is there a spot in your planner where you can give Him a standing (or walking) appointment?
Enoch walked with God for three hundred years, then God took him away (Genesis 5:21-24). He never tasted death. I can just imagine that Enoch's walk with God was so intimate, so joyous, that one day God simply said, "You know, Enoch, we are closer to my house than to yours. Let's just go to mine."
Don and Deyon Stephens, cofounders of Mercy Ships International, tell of Don's Aunt Lilly, who had a regular walking date with God at 4 P.M. every day. "If you were visiting and Aunt Lilly disappeared around four o'clock, you just knew where she was going and that she'd be back around five. She never allowed anything to keep her from her date with Jesus." Aunt Lilly died within the past few years, and when Don was preparing to preach her funeral, he inquired as to the exact time of her death. His suspicion was confirmed when the hospital stated her time of death as 4 P.M. Aunt Lilly didn't miss her walk with Jesus.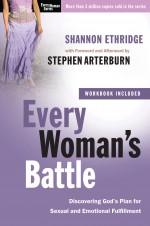 Excerpted from Every Woman's Battle: Discovering God's Plan for Sexual and Emotional Fulfillment by Shannon Ethridge. Copyright 2003. All Rights Reserved. Published by WaterBrook Press, Colorado Springs, CO 80921. Used by Permission. Not to be copied without Publisher's prior written approval.