…continued
When we were teenagers, the looming presence of our fathers may have kept us from having all the sex we wanted.  As aging adults, the looming presence of Father Time may be serving the same purpose.  It's only natural that as our bodies age and begin to function less effectively, our sexual organs follow suit.  For a man, this may happen around his fifties, sometimes slightly earlier, sometimes slightly later.  Most often, the diagnosis is Erectile Dysfunction, which basically means he can't maintain a strong erection all the way through ejaculation.  It doesn't mean he doesn't love you like he used to, or that he doesn't find you sexy, or that he doesn't enjoy sexual intimacy any more.  It just means the blood flow to his penis isn't as strong as it once was.  If obesity is an issue, it could be the culprit, and simply losing weight may heighten his interest once again.  There could also be other circulatory issues that need to be addressed, so it's important that he talk to his doctor since erectile dysfunction can be merely a symptom of a larger health issue.  A doctor may suggest a change in diet, some sort of exercises, or some kind of hormonal therapy such as Viagra. 
Men aren't the only ones subject to Father Time's effects.  As women experience hormonal fluctuations through out their baby-making, menopausal, and post-menopausal years, their bodies can experience all sorts of sexual side effects, including an extreme lack of interest.  You may think it's no big deal, but it's likely going to become a big deal to your marriage relationship unless he's slowing down at the exact same rate!  As the wise old Mrs. Threadgoode (Jessica Tandy) advised Evelyn (Kathy Bates) in the movie Fried Green Tomatoes, "You get you some hormones!"  Seriously, the solution to your lack of sexual interest could very well be as simple as taking a little pill that your doctor can prescribe, so why wouldn't you explore that option with an open mind?  Prescriptions like the new Zestra may be just what the doctor ordered for your lagging sex drive.
Both the male and female body is designed to be sexual.  Let your sexual interest be your medical barometer.  If that barometer is flat-lining, don't hesitate to seek the advice of a medical professional.

Miss Part of the Series?
Part 1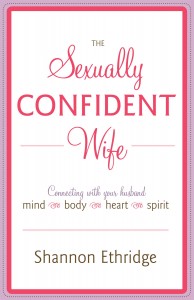 by Shannon Ethridge. Copyright 2008.  All Rights Reserved. Published by Random House Inc, New York, NY. Used by Permission. Not to be copied without Publisher's prior written approval.