continued…
As promised, here are a few valid reasons why the female mind would view another woman's body as the object of her sexual fantasy, even if she considers herself to be a very heterosexual being…
The "Pinnacle" Principle. It's interesting how God created the heavens and earth, then the animals, then man, then woman, then retired from creating anything else! The female body, which has inspired more music, art, and literature than anything else in this world, is surely the "pinnacle" of God's creation, and as such is the object of many of our fantasies.
The "3D" Effect. Have you ever shopped for a greeting card and noticed that some just "pop out" from the racks because they are layered in a multi-dimensional manner? Or noticed how much more eye-grabbing a 3D movie is versus a regular 2D movie? Apply the same principle to the male and female bodies. The male body is beautiful, no doubt, but curves of the female body definitely grab the eye of all human beings, not just men.
The "Safe Refuge" Effect. When we fell and bumped our head, or made a bad grade, or had a fight with a friend, who did most of us run to? Mom. She was our safe refuge throughout most of life's storms. And because sex is a major form of comfort for us as adults, our minds may naturally gravitate in a female's direction when we seek the comfort of sexual arousal.
The "Familiarity" Factor. Men are great providers and protectors, but women are usually the primary relators. Most of the "face to face, eye to eye, voice to voice, skin to skin" intimacy that we experience growing up is with our mothers, sisters, and female friends, and because human beings are drawn to the familiar, female intimacy is a rather natural comfort zone. In addition, a woman is more intimately familiar with the female body because that's the skin she's in, so same-sex fantasies may simply be a reflection of what she already knows, rather than what she wants more of.
The "Danger/Default" Factor. When a woman is physically, sexually, or emotionally abused by a man, it's easy for her brain to conclude, I'll never feel safe with any man. By default, this sense of danger only leaves one gender in her mind with which she can be comfortable enough to explore her own sexuality-women.
Miss Part Of The Series?
Part 1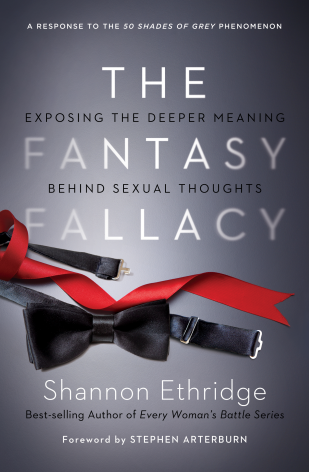 Excerpted from The Fantasy Fallacy: Exposing the Deeper Meaning Behind Sexual Thoughts  by Shannon Ethridge. Copyright 2012.  All Rights Reserved. Published by Thomas Nelson Publishers, Nashville, TN. Used by Permission. Not to be copied without Publisher's prior written approval.