…continued
One of the best definitions of lust I've ever heard came from James Robison during a television interview I was doing with him and his lovely wife, Betty, on the LIFE TODAYshow.  James said, "Lust isn't noticing that something is sexually attractive. We can't help but do that because God is the Creator of such stunning beauty!  Lust is being manipulative and trying to make something yours that simply doesn't belong to you." 
In other words, your spouse does belong to you, so letting them turn your head and turn you on over and over is perfectly okay!  In fact, it's cause for celebration!  It's when we try to lure someone who doesn't belong to us into some sort of sexual or emotional entanglement that we're on shaky ground. For example, how would you answer these scenarios?
* Going out of your way to pass by the desk of a married coworker because you find them so attractive and fun to banter with-Love or Lust?
* Attending a local restaurant where the waitresses dress a little on the provocative side because you enjoy the scenery-Love or Lust?
* Alleviating boredom by searching online for an old flame to reconnect with, just for some laughs and a stroll down memory lane (and maybe an ego boost or two)-Love or Lust?
Yeah, it doesn't take a brain surgeon to dissect those questions and figure out that lust is at the root of each one of them.  When we explore ways to get our egos stroked by someone we're not married to, trouble brews.  But when we focus all of our sexual energies on cultivating a rich, rewarding relationship with the one person that we're allowed to have a rip-roaring good time with, as often as we want, there's absolutely nothing lustful about that.  So stop fretting with false guilt, start staring at the beautiful person you're married to, and feel the freedom to enjoy one another completely!
PRAYER:  God, help me to steer clear of lust and steer my sexual thoughts completely toward my spouse!
Miss Part of The Series?
Part 1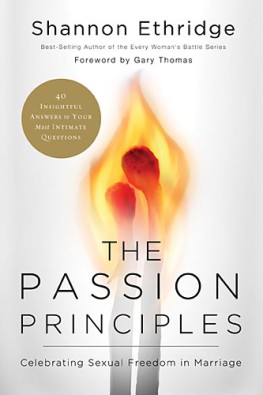 Excerpted from   
by Shannon Ethridge. Copyright 2014. All Rights Reserved. Published by W Publishing Group, and imprint of Thomas Nelson, Nashville, TN. Used by Permission. Not to be copied without Publisher's prior written approval.