I believe a hungry soul is like a vacuum, supernaturally drawing people into our lives that have lessons we subconsciously need to learn.  However, once we learn the lesson, we can release the individual completely.  We don't owe them anything, nor do they owe us anything.  We can look at the relationship as a spiritual marker of where we once were in life.  We can forgive one another for the pain we've caused, then move on with incredibly valuable lessons tucked safely in the pocket of our hearts – lessons that will serve us well as we continue striving to be the best wives we can be.   
We simply do not have to be bound by soul ties to people that no longer enhance our lives.  We aren't required to keep in contact with anyone who prevents us from being our best selves.  We can let go.  We can move on.  We can experience true sexual freedom.  We can be emotionally faithful, sexually confident wives who bring joy and comfort into the lives of everyone around us.  And we can share our life's lessons with those who are still on their journey toward wisdom and inner peace, helping all of our sisters understand what fantastic females we really are.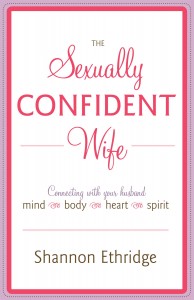 by Shannon Ethridge. Copyright 2008.  All Rights Reserved. Published by Random House Inc, New York, NY. Used by Permission. Not to be copied without Publisher's prior written approval.