When we use our external beauty and seductive powers to lure men into meeting our emotional needs for attention and affirmation, we assume our insecurities will just sweetly melt away like cotton candy on a child's tongue.  But we often create a tumultuous double life when we look to another man to medicate our emotional pain.  Once the high of an affair wears off, we frequently find ourselves addicted, going back to our old "junkie" or finding a new one to provide more of our drug of choice.  This extramarital high makes it more and more difficult to find satisfaction on the home front.  What we're really longing for – genuine passion, intimacy, and connection – can best be found not by looking for a new man, but by creating the relationship of our dreams with the man we already have.  Rather than relentlessly searching for the ideal lover, let's simply create the ideal love.
How is that possible?  Here's five guidelines to help you harness your sexual power and use it for the greater good of your marriage relationship…
1.  Recognize the enormous power your sexuality holds.
The one aspect that sets your marriage relationship apart from all others is the fact that there's sexual intimacy involved.  No matter how close we are with our parents, children, or best friends, we can only go so deep in those relationships.  In marriage, however, intimacy knows no boundaries.  The more intimately our bodies are touched, the more deeply our hearts and souls are touched.  The more our bodies are neglected or abused by one another, the more deeply our hearts and souls are scarred. 
Some women say they want the marriage without the sex, or vice versa.  However, a marriage without sex is nothing more than a live-in friendship.  And sexual relationship without a marriage commitment is just a temporary thrill and a heartache waiting to happen.  But a husband and wife giving freely of themselves to arouse and satisfy one another in a way that no one else on the planet is allowed to is an incredibly powerful thing.  It's like sexual cement that forms the pillars of a strong family and society.  Be a good steward of that sexual relationship, placing it on a plane above all others.
2.  Never withhold sex as punishment for bad behavior.
Occasionally I'll see a report on the news about parents who severely neglect or abuse "bad" children by withholding a basic need such as nutritious food or medicine when they are ill.  Perhaps you've heard of such examples as well, and if you're like me, it's enraged you.  We wonder, How could someone abuse their power by withholding a genuine need from someone they love?
In all honesty, I've wondered the same thing at times when we receive emails from husbands, bewildered by their wives' withholding of sex.  Of course, there are times when a woman is being abused herself and is withholding sex as a self-protective mechanism, but I'm not talking about that.  I'm referring to situations when women are simply overlooking what a basic need sex is for their husbands, and choosing to abuse their power by withholding their bodies as punishment for some petty behavior they don't appreciate.  While you may feel justified in doing this at times thinking it's not that big of a deal to him, keep in mind that some husbands would sooner give up food or shelter before they'd chose to give up sex.  If you love him, show him by sharing your body freely with him.  No strings attached.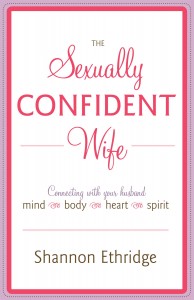 by Shannon Ethridge. Copyright 2008.  All Rights Reserved. Published by Random House Inc, New York, NY. Used by Permission. Not to be copied without Publisher's prior written approval.