How Do I Get There from Here? 

Maybe you are wondering how to get from where you are now to this much deeper, more gratifying level of intimacy with Jesus Christ. It would help to look at where our spiritual journey begins as believers and how our relationship with God evolves as we travel down the path toward spiritual maturity. Life coach and international lecturer Jack Hill explains that there are six progressive levels of relationship with God, as found in the following metaphors in scripture:

~  potter/clay relationship
~  shepherd/sheep relationship
~  master/servant relationship
~  friend/friend relationship
~  father/daughter relationship
~  groom/bride relationship 

I believe God gave us these metaphors to increase our understanding of His many-faceted personality and to help us comprehend the depth of His perfect love for us (although the human mind can not fathom such depth). These metaphors illustrate the maturing of our love relationship with God. Just as a child develops physically until it reaches adulthood, a believer in Christ develops spiritually in stages as we walk down the road to spiritual maturity. As we examine the dynamics of each of these stages, perhaps you can discern what level of intimacy you are currently experiencing in your walk with God. You can also determine what level of connection you can anticipate as your relationship with God continues to blossom. 

Potter/Clay Relationship When we first come to Christ, our spiritual life has little shape or form. We submit ourselves to Jesus Christ as our Savior and ask God to begin shaping us into what He wants us to be. "We are the clay, you are the potter; we are all the work of your hand" (Isaiah 64:8; see also Jeremiah 18:4-6). As a piece of clay, we can allow ourselves to be molded and become a product of the Potter who cares for us, but we cannot express our love back to Him. We can't experience any deep sense of intimacy if we remain in this level of relationship. Why? Because a lump of clay's value is based on how it can be used. When we comply and feel God using us, we feel good about ourselves. When we mess up or don't have a clear sense of purpose, we feel guilty and distant from God. We often withdraw because we believe He is angry with us due to our poor performance. Ephesians 2:10 says, "For we are God's workmanship, created in Christ Jesus to do good works, which God prepared in advance for us to do." This scripture affirms that it is important for us to submit to God and allow Him to shape our lives into something that brings Him honor. However, He doesn't want our relationship to stagnate there. He wants it to continue growing in depth and intimacy. 

Shepherd/Sheep Relationship It may not be flattering to be compared to sheep, but this metaphor illustrates how well God takes care of His people, just as a shepherd carefully tends his flock. God spoke through the prophet Ezekiel: 

For this is what the Sovereign LORD says: I myself will search for my sheep and look after them. As a shepherd looks after his scattered flock when he is with them, so will I look after my sheep. I will rescue them from all the places where they were scattered…. They will lie down in good grazing land, and there they will feed in a rich pasture on the mountains of Israel. I myself will tend my sheep and have them lie down, declares the Sovereign LORD. (34:11-15; see also the parable of the good shepherd in John 10:1-18). 
Although sheep know the shepherd's voice and will follow him, they have no idea what the heart of the shepherd feels for them. Sheep are unable to share the shepherd's dreams and hopes. They are merely concerned with their daily need for food and water. While it is important for us to follow and trust God as our caretaker and provider just as a sheep follows a shepherd, God longs for us to have far more with Him. 
Master/Servant Relationship While sheep stay outside, servants at least live in the same household as the master and can talk with him, as long as it is business. The servant enjoys a more intimate relationship. This level of relationship is referred to in the parable of the talents (Matthew 25:14-30) and in the parable of the ten minas (Luke 19:11-27). However, servants know little of what is happening with the master other than what they are directly involved with. A servant's value is based on how well she can complete the master's will. If she does not comply according to her master's expectations, she will be removed from the household and replaced by another. While it is important for us to serve God wholeheartedly and do His will, God still longs to have an even greater level of intimacy with us than this.

…continued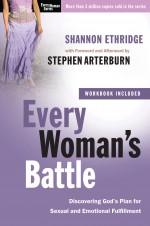 Excerpted from Every Woman's Battle: Discovering God's Plan for Sexual and Emotional Fulfillment by Shannon Ethridge. Copyright 2003. All Rights Reserved. Published by WaterBrook Press, Colorado Springs, CO 80921. Used by Permission. Not to be copied without Publisher's prior written approval.