Over the past two decades, Greg and I have enjoyed seasons where we make love often.  But there's also been many seasons when there was little or no sex at all.  Perhaps Greg really was interested in sex during those times, just not with me.  While it's normal for some men not to be in the mood on occasion, it's not normal when the occasion lasts a long, long time.  Even the most sexually confident wife can feel devastated by a husband who seems to have lost sexual interest in her.  For example:
I read often of women not wanting to have sex with husbands, but what is a woman to do when her advances toward her husband are not returned?  What of the women who want sex and their husbands withhold purposefully?  How do you remain sexually confident in an unresponsive situation?  This has been an issue at periods of time in my life, and I'm a tall, slender, personable, adventurous young woman with every reason to be confident in what I have to offer.
*  Maya confesses she's not a very sexually confident wife because of her husband's lack of interest in her and his extreme interest in other women.  She bemoans, "All his affairs have left me wondering what I've been doing wrong.  Some of these 'other women' have even said things like, 'If she was woman enough, he would not have had the affair in the first place.'  My counselor tells me that a husband's infidelity is never his wife's fault but rather an indication of his own sexual insecurities, but I still can't help but feel like something must be wrong with me."
Maya's counselor is right, and while it may be difficult to understand what's behind a straying husband's sexual misconduct or a faithful husband's lack of interest, let's take a look at some of the possible factors involved.  Unresolved childhood issues may be haunting him, just like they often haunt women, affecting his ability to perform.  He may be drawn to pornography and masturbation rather than mustering the energy that relationships require.  Extreme job stress or financial burdens can drive him to distraction from things that are ultimately most important to him.  There may be some medical or hormonal issues putting a crimp in his sexual style. 
I don't offer these possible explanations to alarm you, but simply to make you aware of the fact that there's a whole host of reasons why men might lose sexual interest in their wives.  However, based on the emails we often receive from men, I believe the most common reason a man loses his sexual appetite for his wife is because she loses respect for him. 
For example, Albert laments:
Why is it that women think they can be rude, demanding, and disrespectful to their husbands, then expect that everything should function normally in bed?  When my wife rides me all evening about how I don't help out enough in the house or with the kids, or how I don't bring home enough money for her to pay all the bills, or how I don't pay her enough attention or meet her emotional needs, the last thing I want to do is cuddle up next to her and make love.
Think about it.  If a man treated a woman harshly during the day, would she be eager to let him touch her that night?  Not a chance.  This dynamic works both ways.  Sometimes a woman expects that her husband's heart and penis should be made of steel, built to withstand the most disappointing and frustrating of relational dynamics.  But he's no robot.  He's a human being with feelings and emotions, and he needs to be somewhat affirmed in order to feel aroused.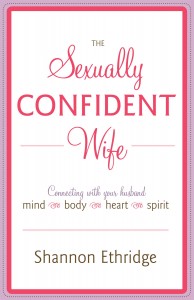 by Shannon Ethridge. Copyright 2008.  All Rights Reserved. Published by Random House Inc, New York, NY. Used by Permission. Not to be copied without Publisher's prior written approval.