Perhaps you are wondering what it would look like to be a sexually confident wife. First let's talk about what it doesn't look like. It's not about having a great body or obsessing over getting one. It's not about fitting the "young, hot" stereotypical mold. It's not about being his sexual rag doll, doormat, or vending machine. It's not about killing your conscience and being willing to do anything and everything to sexually satisfy someone else.  It's simply not about becoming someone you aren't.            
It's about becoming who you really are, and humans are naturally sexual beings. Perhaps you don't feel like a sexual being at the moment, but I hope that by the time you finish reading this book, you will. In fact, I hope you'll not just feel sexual, but that you'll feel sexually confident as you put these principles into practice.
As a sexually confident wife, you will learn to love your body and feel beautiful in your own skin. You'll be content with being the best _________  ___________ you can be (fill in the blank with your own first and last names) and not feel the need to compare yourself or your husband to anyone else. You'll come to believe wholeheartedly that your husband finds you incredibly desirable. You'll be able to openly communicate what you find pleasurable, as well as what is beyond your personal boundaries. You will feel great about what you have to offer your husband, and will be able to relax and freely enjoy all that he has to offer you. 
…Most women are sexually competent. They know what to do in the bedroom to bring their husband to climax. But I want more than that for you. I want you to be sexually confident. Sexual confidence isn't just for the supermodel or porn star.  It is the birthright of every woman, and the deep desire of every husband for his wife. It's also a valuable legacy that we pass down to our own daughters and granddaughters as they are seeking to understand, embrace, and celebrate their own sexuality within marriage.
However, issues such as extreme body inhibition, shame from past sexual abuse, guilt over pre-marital sexual activity, fear of intimacy, or lack of knowledge about male and female sexuality are just some of the many hurdles that hold us back in the bedroom. 
If you could overcome all of the hurdles holding you back, could you become a sexually confident wife?  Absolutely!  If that is your desire, let's figure out how to overcome these hurdles and get on the right track toward sexual confidence.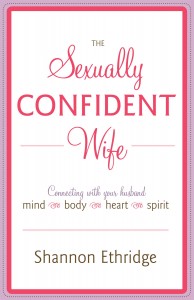 by Shannon Ethridge. Copyright 2008.  All Rights Reserved. Published by Random House Inc, New York, NY. Used by Permission. Not to be copied without Publisher's prior written approval.