In 2005, Family Circle magazine published the results of a national survey where they asked married women to reveal their innermost desires, needs, regrets, and joys. Consider these results and what they say about the quality of couples' relationships…
* Only 8% of married women consider their sex life "very hot."
* 21% call their sex life "routine and boring."
* 21% of respondents asked, "What sex life?"[i]
 
Sound familiar? Maybe you've been thinking you were alone in your struggle to discover sexual fulfillment. Think again… 
 
* 20 to 30 percent of men and 30 to 50 percent of women say they have little or no sex drive.[i]
* 33 – 50% of women experience orgasm infrequently and are dissatisfied with how often they reach orgasm.[ii]
* 10 – 15% of American women have never experienced orgasm at all.[iii]
 
Although many women have lost (or never found) their sexual groove in marriage, it doesn't mean they are sexually dead. We get married, not buried. If your husband isn't floating your sexual boat, you may be thinking about what it would be like to sail on other oceans. According to the aforementioned Family Circle survey…
* 44% of wives have fantasized about having an affair, most often with a stranger, celebrity or co-worker.
* 29% of women admit to flirting with other men.
* 25% of women fantasize about another man during the act of sex.[i] 
 
If you ask me, these statistics merely indicate the number of women who are willing to admit their issues to researchers. I think the number of women who actually engage in these extramarital games and struggle with finding genuine sexual fulfillment within their marriage is much higher.
What gives me this impression? The multitude of emails I receive every day from women lamenting their lack of sexual confidence. For example:
* Lisa, who was sexually abused as a child, confesses, "Sexual fantasies of other men have always been an issue for me, and extramarital affairs littered the first five years of my marriage. Even now that I'm being faithful to my husband, I still struggle with feeling the need to compete with other women for my husband's attention. We spent two weeks in Hawaii and I was miserable the whole time because of all the bikini-clad bodies around. My husband says, 'But I'm with you, so what's your problem?' I just wish I knew the answer to that question."
* Sylvia was sexually active before marriage, then married a virgin three years ago. She asks, "How do you and your husband keep the past out of your marriage? Do you ever talk about it? How do you get beyond the hurt? I am afraid this is affecting my sex life because I still feel 'unclean' at times. I am also afraid of trying anything new to please him because I don't want him to think I'm a slut. I know he must think about my past sometimes, but I don't ever want to talk about it. I just want the whole thing to be forgotten, but I can't erase the memories or their negative effects." 
 
* Abby has been married eight years and has one child. She writes, "My husband and I get along very well, but it feels more like we're friends or business partners than lovers. I'm no longer attracted to him physically at all and I can't stand it when he comes near me for even just a quick kiss. I actually feel repulsed by him. I'm not frigid, but there's just no 'chemistry' any longer. How can I find my husband desirable again?" 
* Terri came into marriage expecting that everything would come naturally, but it hasn't worked that way. She says, "I just can't relax and get into it. I have too many hang-ups about anything sexual. I love my husband, but I wish sex didn't have to be a part of the marital equation at all. When I give in out of obligation, I usually just close my eyes and think of something else. I know that's probably not all that fun to him, but I don't know what else to do." 
 
When I receive these kinds of questions and comments, I always wonder the same thing… What difference would sexual confidence make in these women's lives? In their husband's lives? In the life of their family?
References:
[i] Angela Ebron, The Secret Life of the American Wife, Family Circle Magazine, October 1, 2005, p. 97.
---
[i] USA Today (smith email 2/20/07)
[iii] Robert W. Birth, Ph.D., Pathways to Pleasure, 2000.
---
[i] Angela Ebron, The Secret Life of the American Wife, Family Circle Magazine, October 1, 2005, p. 97.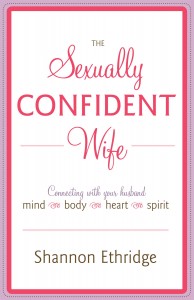 by Shannon Ethridge. Copyright 2008.  All Rights Reserved. Published by Random House Inc, New York, NY. Used by Permission. Not to be copied without Publisher's prior written approval.