When we know that God loves us completely and unconditionally, we can't help but offer Him our utmost praise and adoration — to offer Him our worship, which is the language of our love. God alone is worthy of our worship, which is defined by Webster as "to regard with great, even extravagant respect, honor, or devotion."
When a bridal love for Christ wells up in our hearts, we find ourselves singing not only about Him, but also directly to Him, for we know He is listening with delight. We sing Him our praises, not just on Sundays, but every day of the week. I even find myself waking up many mornings with a worship song already in my mind. And we don't just read someone else's words as a prayer to God. We speak to Him out of the depths of our own emotions and experiences. We cry out to Him in times of pain, despair, and confusion because we know we can be honest with Him about our struggles. We verbalize our petitions to Him because we have confidence that He hears us and that He cares about the things we care about. We craft sweet sentiments that relay to Him just how awesome and wonderful we think He is.
When we worship God in this way, we are saying, "I want you to have control over my life because your ways are higher than my ways… your thoughts are higher than my thoughts… your love is greater than my love… teach me your ways, your thoughts, and your love so that I can be more like you, Lord!"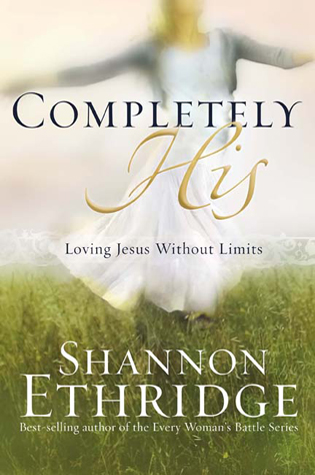 Excerpted from
Completely His: Loving Jesus Without Limits 
by Shannon Ethridge. Copyright 2007.  All Rights Reserved. Published by WaterBrook Press, Colorado Springs, CO 80921. Used by Permission. Not to be copied without Publisher's prior written approval.