One of my favorite parts of a wedding reception is the tossing of the bouquet, when all of the hopeful yet-to-be married women eagerly gather around to catch the bride's flowers as she throws them over her shoulder and into the crowd. The sentiment behind this wedding tradition is that whoever catches the flowers is the next in line for her own wedding. Knowing firsthand the joy of finding a wonderful mate and becoming his wife, the bride is eager to wish another woman such happiness and fulfillment. 
How eager are we to toss the bouquet to those who have yet to discover what a wonderful Bridegroom we have in Jesus? Do we know what we would say if we had an opportunity to talk with someone about our love for Him and His love for us? Do we truly have evangelism on our hearts and minds? 
When a woman marries, she becomes a partner to her husband. His goals become her goals. She longs to see his dreams fulfilled, and she does whatever she can to make those dreams a reality. This should also be true in our relationship with God. When we become Christ's bride, His agenda becomes our own. 
Imagine being invited to a party where people know your name, but have never seen your face. Unfortunately, you can't attend, but a friend approaches you and says, "Why don't you let me go for you? I'll wear your name tag and everyone will assume that I am really you." Do you believe this person would represent you well? Would you trust her not to say or do anything that would discredit or embarrass you? Would you feel confident enough in her character to let her wear your name tag? 
It's a scary thought.  But do you realize that this is exactly the kind of trust that God placed in us?  As Christians, we go around wearing CHRIST's name tag.  We represent our Heavenly Bridegroom to everyone we meet.  Are we representing Him well?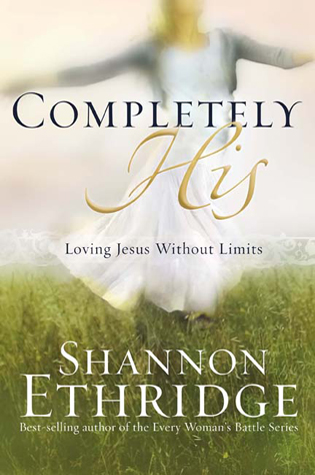 Excerpted from
Completely His: Loving Jesus Without Limits 
by Shannon Ethridge. Copyright 2007.  All Rights Reserved. Published by WaterBrook Press, Colorado Springs, CO 80921. Used by Permission. Not to be copied without Publisher's prior written approval.