We can tap dance our way through this world, but God sees the "why" behind our tap dance. As creative and inspiring as my youth ministry efforts may have been, much of it was done out of selfish ambition, a desire to further my own kingdom. I liked that the kids thought I was cool. I enjoyed having the respect and appreciation of their parents. I relished being thought of by my pastor as an asset to our church. It seemed on the surface to be all about God, but deep down, most days it was really all about me.
Of course, at the time I didn't realize I was operating out of selfish ambition. I thought I was living my life for God. But if that were the case, why didn't I have a more intimate relationship with Him? Why wasn't I inspired to spend time basking in His presence, simply enjoying His company? Why wasn't I seeking His plans for my youth group rather than relying on my own creative ideas? Why was I only taking my Bible off the shelf when I needed to prepare a Sunday school lesson or write a newsletter? In hindsight I can see that I was preaching something (having a "personal relationship" with Christ) that I wasn't experiencing myself. I was relying on my own efforts, and it was exhausting. In fact, it was less than two years before I resigned because I felt I had nothing more to give.
I believe many other Christians are also on the verge of burnout for the same reason. Their relationship with God is not intimate. In their attempt to find fulfillment, many study and serve God more and more, yet spend less and less time simply enjoying the presence of their Bridegroom. Consequently, their strength often wanes.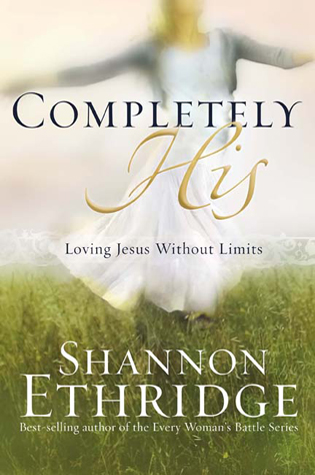 Excerpted from
Completely His: Loving Jesus Without Limits 
by Shannon Ethridge. Copyright 2007.  All Rights Reserved. Published by WaterBrook Press, Colorado Springs, CO 80921. Used by Permission. Not to be copied without Publisher's prior written approval.