Have you ever wondered why John the Baptist invited people down to the Jordan River to be immersed in water as a sign of their faith? Why couldn't he just ask them to shake his hand, or draw a line in the sand, or some other random sign that they wanted to confirm their belief in the coming Messiah?
John may have been imitating an ancient Jewish wedding tradition called the mikvah, a tradition that continues among many Jews. According to this tradition, a bride is required to perform a ritual of fully immersing herself in water prior to her wedding.
Throughout history and into our contemporary age, immersion in a mikvah signifies the "rebirth" and change of status of a convert.   In her book, To Be A Jewish Woman, Lisa Aiken explains the intimate details of the mikvah even further:  A mikvah is a collection of water emanating from a natural source, such as a spring or rainwater. One reason why a bathtub, Jacuzzi, or swimming pool cannot serve as a mikvah is because the water that goes into them is not directly connected to the natural source from which it emanates…
When women immerse, they are not allowed to have even a speck of dirt on them. This is because whenever we renew our spiritual connections with God and remove our spiritual blockages, nothing can stand between us and the Source of all spiritual blessing.
A mikvah must contain a certain amount of water. There must be at least 40 seah (about 200 gallons) of water. The number 40 symbolizes the amount of time (in days) it takes for a fetus to attain human form… The mikvah itself represents the womb.
Perhaps some of these details of the 
mikvah bring other biblical images to mind, such as Jesus' claim in John 4 that He alone offers us "living water," not stagnant water that has been disconnected from its source. And the number forty? How about the forty days and nights of flooding that Noah and his family endured — a spiritual "cleansing" of the earth of all the evil which had become so prevalent? Obviously, the mikvah is an experience rich with tradition and religious symbolism. It is intended to be a complete spiritual cleansing, and a transition between our spiritual death and our spiritual life, a special moment when we are spiritually born-again as a pure and spotless creation.
Could John's intention in baptizing believers in the Jordan River have been to emulate the mikvah? I believe that based on how he called himself "the Bridegroom's friend" (John 3:29), his intention was to prepare us, the bride of Christ, for our wedding day.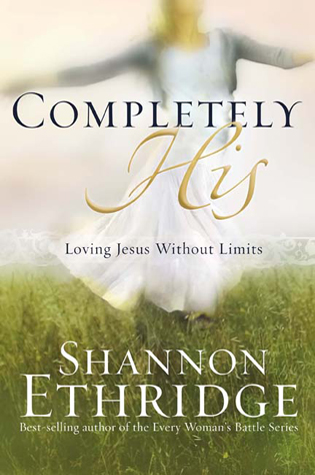 Excerpted from 
Completely His: Loving Jesus Without Limits
by Shannon Ethridge. Copyright 2007.  All Rights Reserved. Published by WaterBrook Press, Colorado Springs, CO 80921. Used by Permission. Not to be copied without Publisher's prior written approval.