When I first sensed that God wanted me to tell others about my past sexual mistakes, I was frightened to the core. But what will they think of me, Lord? I wondered.
He answered, "It doesn't matter. The only thing that matters is what they think of me. How will they know what my long arm of mercy and love can do in a person's life if you won't tell them about the depth of the pit from which I rescued you?"
So I stiffened my upper lip, took off my mask, and shared my testimony at various retreats for youth and for women. I was relieved to discover that people didn't seem to think less of me, as I had expected. Granted, some probably did without my knowledge, but many responded with gratitude and enormous relief. After a presentation, I'd often get statements like these: "I thought I was the only woman struggling with this issue! Thank you for your vulnerability!" "You mean there is hope for me even after all I've done?" "I wish I had the courage to be so open and honest with others." What I had expected was judgment and rejection, but I received unconditional acceptance and appreciation beyond my wildest imaginations.
It took almost two decades of God working in my life, but He has transformed me from a poster child for teen promiscuity to a woman with a passion for God and for the sexual purity He calls us to. My greatest fear twenty years ago would have been for others to know about my secret sexual sins. Today, my greatest fear is for people not to know about the change that God has brought about in my life. I want to instill in others a great hope that God can and will make the needed changes in our lives when we submit to His transformation process.
On November 2, 1999, I wrote the following to God in my journal:
You have ignited a passion in me that can only be satisfied by leading other women to sexual wholeness through a more intimate relationship with you. My greatest misery has now become my greatest ministry!
Since I first began publishing books about sexual integrity for women, I've received hundreds of emails from readers claiming that they, too, are committing themselves to the task of reaching out to other women in a similar manner. I can still hardly believe how God has redeemed the parts of my life for which I was once most ashamed. What an incredible gift!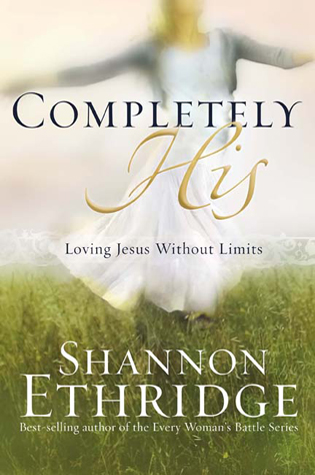 Excerpted from
Completely His: Loving Jesus Without Limits 
by Shannon Ethridge. Copyright 2007.  All Rights Reserved. Published by WaterBrook Press, Colorado Springs, CO 80921. Used by Permission. Not to be copied without Publisher's prior written approval.