Of course, earthly nature isn't the only place we can catch glimpses of God. We can also recognize Him in much of human nature, for we are made in God's image (Genesis 1:26). When we experience the wide variety of positive emotions that people are capable of, we must remember that God is the source of such feelings. We can only fully experience love because God is love… joy, because God is joy… peace, because God is peace.
As I began writing the Completely His series, I was counseling a woman who was experiencing romantic feelings for a particular man. She asked, "Why did God create us in such a way that we have physiological responses to our emotions? Why do thoughts of this guy cause butterflies in my stomach? Why does my heart skip a beat when he looks at me? Why do I get all giddy inside when this guy pays attention to me?"
In that moment I caught another magnificent glimpse of our loving God. He said to me, I created humans to respond that way to love so that they would know how I feel when they turn their attentions toward me! I pondered this for a split second, wondering, God, do you really feel that way when I turn my thoughts toward you? He affirmed, Every time you lift your hands in prayer, or lift your heart in worship, or turn your attentions to me for any reason at all, I get giddy over you, Shannon. I shared the revelation with the woman I was talking to, and her response was equivalent to mine. We were both astounded over the idea that God's heart does flip-flops when our attentions turn toward Him.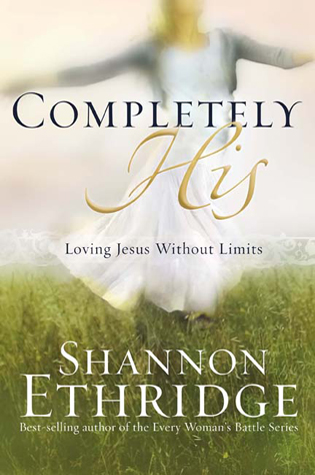 Excerpted from
Completely His: Loving Jesus Without Limits
by Shannon Ethridge. Copyright 2007.  All Rights Reserved. Published by WaterBrook Press, Colorado Springs, CO 80921. Used by Permission. Not to be copied without Publisher's prior written approval.