Porn actors often get reeled into making films because of the incredible emotional rush they feel when someone finds them noteworthy, or "camera worthy." And not just one person, but an entire viewing audience! At first glance, it's all about getting noticed and being willing to do anything to make that happen, regardless of how painful or degrading that anything may be.
While I haven't been personally acquainted with a large number of men or women in the porn industry, I've had occasion to speak with a few women through various support group ministries. If one common thread exists among those who've been willing to bare their bodies for the sake of "fulfilling" (and I use that word loosely) other peoples' fantasies, it's that they've felt incredibly rejected or neglected in the past. Many are teenage runaways or were kicked out of the house by a violent parent, so it's not just about stardom but also survival. Most have been sexually abused already, so the notion of having sex with a stranger in front of a camera for a $1,000 paycheck is preferred to standing in line at a local soup kitchen. One film turns into three or four per month, and prostitution is yet another avenue of fast income for 90 percent of porn stars.1 Soon they are making more money than they ever thought possible, thus drinking and doing more drugs than ever before—at first for the thrill, but later because they have to numb themselves completely to do what's expected of them on camera.
If you're brave enough to peek inside the real world of porn stars, read The Empire of Illusion by Chris Hedges. In a chapter called "The Illusion of Love," Hedges exposes:
* How a forty-five-minute scene requires thirteen hours to tape, so women are exhausted, and their vaginas and anuses are ripped, sore, and bleeding by the time shooting wraps up.2
* How female porn stars are paid to fake orgasm, because climaxing on the set never happens under such humiliating duress.3
* How male stars take Viagra or inject a "hardening agent" into an open vein in the penis to keep it erect for hours at a time, which also becomes necessary at home when having sex with their girlfriends.4
* How common it is for women to get pregnant, have abortions, and contract sexually transmitted infections (including HIV), mainly because producers don't want actors wearing condoms. It's too expensive to Photoshop them out of the scenes.5
You may wonder, Why does this matter? I'm not a porn star! Let's remember that porn actors are people with deeply felt spiritual and emotional needs, just like us. If we as a church could find ways to show them how to actually heal the wounds that have driven them toward such exhibitionism, and show them more personally empowering ways to earn a living, imagine how much healthier their personal lives could become, not to mention the lives of their children! (I know it's hard to imagine that porn stars have personal lives and children to raise, but they actually exist on this earth for more reasons than just to fuel illicit fantasies.)
As I contemplate the unthinkable atrocities that humans endure for the sake of fueling the Fantasy Factories—both the corporate ones, as well as the mental ones in avid consumers' minds—I can't help but feel incredibly grieved over how badly we've been duped. There's simply no bigger fantasy fallacy than the porn industry.
References:
Chris Hedges, Empire of Illusion: The End of Literacy and the Triumph of Spectacle (New York: Nation Books, 2009), 68.
Ibid, 82.
Ibid, 66.
Ibid, 77.
Ibid, 59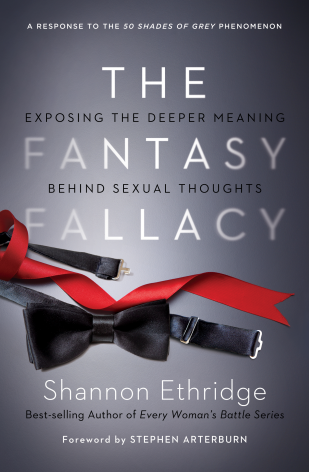 Excerpted from The Fantasy Fallacy: Exposing the Deeper Meaning Behind Sexual Thoughts  by Shannon Ethridge. Copyright 2012.  All Rights Reserved. Published by Thomas Nelson Publishers, Nashville, TN. Used by Permission. Not to be copied without Publisher's prior written approval.