People tend to talk more about things that are extremely important to them than things that are not-so-important. Do you know what Jesus talked about more than any other subject? Money. One out of six of His statements recorded in the gospels pertained to financial matters.1  Jesus obviously knew how closely connected our hearts and our purses are, and apparently He wanted to make sure that our money didn't come between Him and us.
Where our money goes says a lot about how we feel about God. In fact, we can  determine what we value most by examining two things: our checkbook registers and our credit card statements. What would yours say about your values?
Money is such a sticky subject that some pastors shy away from preaching about it too often for fear of angering their congregations. While many believers enjoy a good "name it and claim it" sermon, others will lambaste a minister for preaching what they consider to be nothing more than a "prosperity gospel." But if Jesus spoke so often of financial matters, shouldn't we?
The proper mindset about money makes all the difference in whether or not God will entrust mathematical miracles to us. If we want to love Jesus without limits, we will use our finances to do all we can for Him. In light of this, is it wrong to ask God to multiply our money or add to us financially so that we might give more to Him? I think the answer lies with our motives. If our goal is greed, we've got trouble on the horizon. But if our motive is to have more to give back to Him, I believe God is inclined to respond positively to those desires.        
In Psalm 119:36, we see David begging God, "Do not inflict me with love for money!" Yet David was a very rich king who lived in a palace. Why did God bless him in spite of his desire not to be inflicted with love for money? Note that David never said, "Don't give me money." He said, "Don't give me a love for money." In other words, David didn't want to love money more than he loved God. David knew that he couldn't serve two masters, "For you will hate one and love the other, or be devoted to one and despise the other. You cannot serve both God and money" (Matthew 6:24). I believe that because David was more concerned about loving God than loving money, God was able to entrust great riches to him.
A good question to ask ourselves is, "Do I use my finances to help people, or do I use people to help my finances?" I believe that if we commit to using our money to help people, God is going to multiply our available funds. Why? Because it brings Him great glory to demonstrate His mathematical miracles through His people. Which people will He choose to demonstrate such miracles through? Those who love to give.
 
Reference:
[1] Loren Cunningham, Making Jesus Lord (Seattle, WA:  YWAM Publishing, 1988), 38.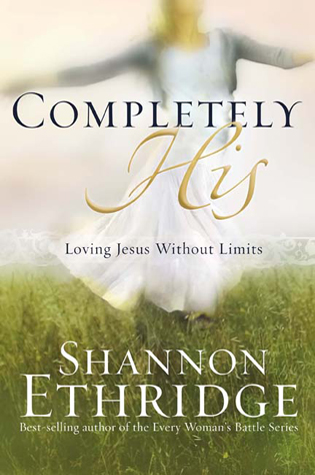 Excerpted from 
Completely His: Loving Jesus Without Limits
by Shannon Ethridge. Copyright 2007.  All Rights Reserved. Published by WaterBrook Press, Colorado Springs, CO 80921. Used by Permission. Not to be copied without Publisher's prior written approval.