Believe it or not, one of the most treasured gifts I've ever received is one I actually had to pay for myself. One day when my son was in kindergarten, he was packing all of his stuff into his backpack and suddenly realized that he was forgetting something. "Oh, Mommy, can I have five dollars?" Matthew asked with his big brown eyes staring up at me expectantly. When I asked what he needed the money for, he responded, "I can't tell you 'cuz it's a secret." Since it was the last week of school before the Christmas holidays, I suspected what he was up to, and I couldn't deny his request.
Christmas morning arrived several days later, and Matthew placed a small, unwrapped box in my hand, along with two dollars worth of change from the five dollars he had borrowed. As my son eagerly awaited the expression on my face, I tucked the money into the pocket of my robe and proceeded to open the box. To my surprise and delight, I discovered a very large plastic ruby and cubic zirconia ring, one that actually looked similar to the ring my grandmother used to wear when I was a little girl, although Matthew would have never known that when he picked it out.
I knew his gift would probably turn my finger green, but I didn't care. The thought of my precious son shopping around at his school's Secret Santa Workshop and choosing this beautiful ring just for me thrilled my heart. I scooped him into my arms for a tight squeeze and a loud smack of a kiss on his chubby little cheek. It didn't matter that the ring was far from the best quality. It didn't matter that it only cost three dollars. It didn't even matter that it was my three dollars that paid for it. What mattered was the loving, thoughtful spirit in which the ring was given, as if to say, "I love you so much, Mommy!"
While we may get a chuckle out of Matthew's innocence, aren't the gifts we give to God much like the gift my son gave to me? If we think about it, even the greatest gifts we could ever offer Him are actually gifts He gave us the provision for. Have you placed a nice-sized check in the offering plate at church lately? Whatever amount of money you may have been tithing on, He supplied all of that money into your hands Himself. It only makes sense that we offer a portion of it back to Him with a happy heart, doesn't it? Have you served on a special committee at church or in your community lately? Isn't God the one who gave you the time, the talent, and the heart to serve in the first place? Have you sung Him a song of praise lately? Did you thank Him for the voice with which you sang? The very air in your lungs? A mind sharp enough to remember the tune and the lyrics?
Everything in the universe belongs to God; there's not one single thing we can offer Him that He didn't give to us in the first place. Nothing. Zero. Zip. Zilch. Nada.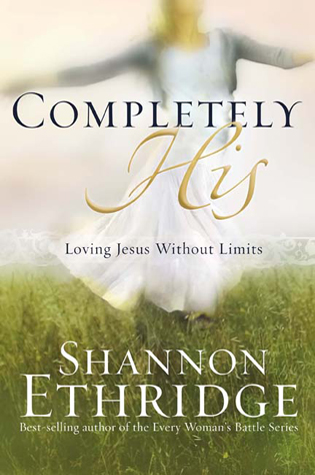 Excerpted from 
Completely His: Loving Jesus Without Limits 
by Shannon Ethridge. Copyright 2007.  All Rights Reserved. Published by WaterBrook Press, Colorado Springs, CO 80921. Used by Permission. Not to be copied without Publisher's prior written approval.