When Greg and I had been married almost one year, we discovered that I was pregnant. Although this was not part of our plan, we received it as God's, and became ecstatic over the little miracle growing inside my body. We shared the news with our friends and family, decorated the nursery, and daydreamed about what parenthood would be like. Two months later, I miscarried.
The idea of having a baby had become such a part of our hopes and dreams that we decided to try to get pregnant again, as soon as possible. It took six months, which may not sound like a long time, but to us it felt like an eternity. I'm sure I drove everyone crazy during that time. Each month I would swear, "Oh, I know this is it! I feel pregnant! I'm tired! I'm nauseous! I'm late with my period!"
But month after month the pregnancy turned out to be all in my head. My hopes crashed down around me with each negative test result. Those were some of the most disappointing and frustrating months of my life. However, through the years I have often gazed upon our incredible daughter, Erin, realizing that if I hadn't miscarried or if I had gotten pregnant any of those prior months, we would have had a different child. I praise God that He united just the right sperm and just the right egg to create such a wonderful human being as Erin Elizabeth Ethridge.
Now, over fifteen years later, I can laugh about how I was able to convince myself month after month that I was pregnant when, in fact, I was not. Some of us do something similar with ministry. We so want to be used by God and have a ministry of our own that we convince ourselves He has called us to do something before the timing is actually right. And what do we usually get when we jump ahead of God? The same thing that Abram and Sarah got.
While we might be tempted to criticize the couple for not believing a miracle could emerge from Sarah's womb, then coming up with an alternate plan and expecting God to bless it, don't we do the same? Rather than patiently and expectantly asking God, "What dreams do you want to bring to life through me?" we often ask, "Lord, will you bless the dreams I have for my life?" Our self-sufficiency results in many Ishmael ministries. These ministries ultimately bear human-sized fruit rather than an abundant, God-sized harvest.
In contrast, an Isaac ministry is born of God, and is laced with submission, humility, servitude, and a passion for allowing God to bring His dreams to life, whenever and however He purposes. Isaac ministries bear much fruit and bring great glory to God.
In the words of my friend David Ravenhill (who introduced me to this concept of an Ishmael ministry vs. an Isaac ministry many years ago), our dreams are either self-appointed or God-anointed. We either impatiently will our own dreams for ministry into existence, or we ask the Holy Spirit to impart that which God wants to bring to life through us. John 3:6 explains this biblical principle best: "Flesh gives birth to flesh, but the Spirit gives birth to Spirit."
Anyone can give birth to an Ishmael ministry. It's easy for flesh to give birth to flesh. However, for an Isaac ministry to be conceived, our spirits must receive a holy impartation from the Spirit of God. If we want to be part of a life-changing ministry, we must intimately connect with the life-changer Himself, Jesus Christ.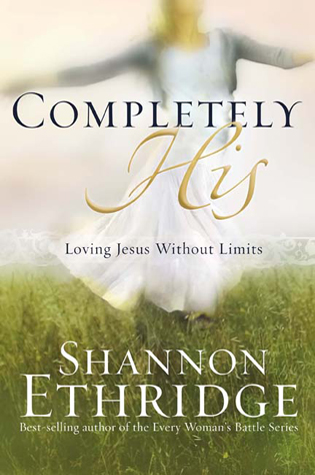 Excerpted from Completely His: Loving Jesus Without Limits by Shannon Ethridge. Copyright 2007.  All Rights Reserved. Published by WaterBrook Press, Colorado Springs, CO 80921. Used by Permission. Not to be copied without Publisher's prior written approval.