When God showers us with blessings, we can quickly forget who the money, talent, or credit really belongs to. Everything we own or possess is simply on loan to us from God to be used for His purposes, which is why we must be careful stewards of everything entrusted to us. We must vigilantly guard against the sin of pride.
In It's Not About Me, Max Lucado tells the story of a frog who developed a pride issue that eventually led to his demise.
The frog's home was drying up, and if he didn't find water soon, he would dry up as well. He heard of an abundant stream on the other side of a hill where he could go and live, but his short legs wouldn't take him on such a long journey. So he came up with a clever solution:
Convincing two birds to carry either end of a stick, he bit the center and held on as they flew. As they winged toward the new water, his jaws clamped tightly. It was quite a sight! Two birds, one stick, and a frog in the middle. Down below, a cow in a pasture saw them passing overhead. Impressed, he wondered aloud,
"Now who came up with that idea?"
The frog overheard his question and couldn't resist a reply. "I diiiiiiiii…"
Lucado continues:
Don't make the same mistake. "Pride goes before destruction, and haughtiness before a fall" (Proverbs 16:18 NLT). Why are you good at what you do? For your comfort? For your retirement? For your self-esteem? No. Deem these as bonuses, not as the reason. Why are you good at what you do? For God's sake. Your success is not about what you do. It's all about him — his present and future glory1.
REFERENCE
1) Max Lucado, It's Not About Me (Nashville, TN: Integrity Publishers, 2004), 137-138.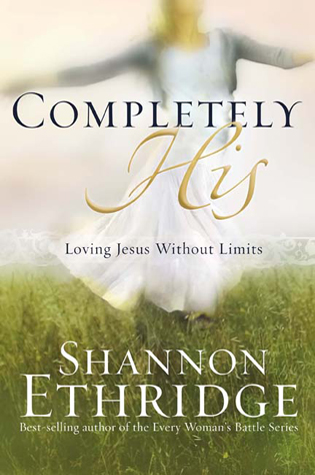 Excerpted from
Completely His: Loving Jesus Without Limits 
by Shannon Ethridge. Copyright 2007.  All Rights Reserved. Published by WaterBrook Press, Colorado Springs, CO 80921. Used by Permission. Not to be copied without Publisher's prior written approval.