Imagine a groom standing at the altar, watching his lovely bride glide down the aisle to pledge herself to him in holy matrimony.  Dreams swirl in his head of putting the ring on her finger, taking her in his arms on their honeymoon, and spending the rest of his life with her by his side.
Do you think this groom would go through with the wedding if he knew that his bride would be unfaithful to him, prostituting herself with other men and treating their wedding vows with about as much respect as the weekly trash? Would still marry her if he knew she would be unfaithful to him?
Would you make such a commitment if the tables were turned and you knew the person you were about to marry had quite the dark past, a past that would definitely repeat itself? Or would you consider it more reasonable to pass on this opportunity and seek a more qualified candidate down the road, one who would be faithful to you forever?
Now imagine for a moment that you are that unfaithful bride. When your groom is asked if he will love, honor, and cherish you forever, even though he knows you will give yourself to others, what will He say? Do you expect him to say, "I do," or is this reason enough for him to say, "I don't think so!"?
It's hard to imagine that a groom would commit himself to an unfaithful bride, but this is exactly what God has done with you and me. In fact, many theologians and scholars agree that the Old Testament story of Hosea and Gomer is a picture of God's relationship with His spiritual bride, the church.
In this Old Testament book, God calls the prophet Hosea to take Gomer as his wife even though she's an adulteress. Similarly, God takes His bride, the nation of Israel (and ultimately us, the church) in spite of our unfaithfulness.
Without question I find the second chapter of Hosea to be one of the most extraordinary and comforting passages in the Bible. Why? Because I, like Gomer, have been an incredibly unfaithful bride. Perhaps I've never invoked the name of Baal, but I've been seduced by plenty of other gods, gods such as greed, selfishness, pride, and sexual immorality. If I examine how I've spent significant blocks of time over the years, I'd also have to say that I've bowed down to many other petty gods–the television, the telephone, inappropriate relationships, the computer and the Internet, and shopping in my futile efforts satisfy my soul. After all, the essence of idolatry is looking to something or someone else to fill us up and satisfy us in a way that only our Creator God can.
None of us are faithful to our Bridegroom — not one — but He has known this about each of us all along. The Bible is filled with unfaithful brides, from Adam and Abraham in the Old Testament to Peter and Paul in the New Testament. Yet these sin stories often turn out to be success stories of how God cleansed these individuals and called them His own. He can do the same for us.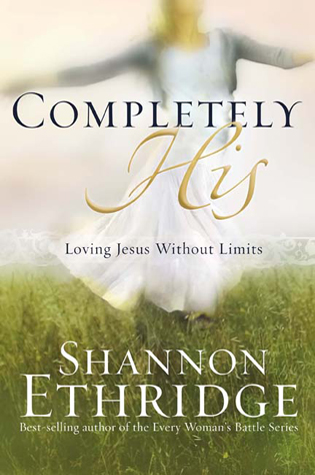 Excerpted from
Completely His: Loving Jesus Without Limits
by Shannon Ethridge. Copyright 2007.  All Rights Reserved. Published by WaterBrook Press, Colorado Springs, CO 80921. Used by Permission. Not to be copied without Publisher's prior written approval.