God often reveals Himself to me through His world is on my daily walks. I've always sensed His presence whenever I'm in the outdoors, but several years ago I began feeling as if He was truly walking beside me each time, almost as if He was there in the flesh, holding my hand and conversing with me all along the way.
One crisp fall afternoon, I was walking down a country road, singing, "The Power of Your Love" (Word Music, Inc., 1992) with my arms stretched wide, feeling particularly stirred by the lyrics "as I wait, I'll rise up like the eagle…" I sensed the Lord lifting my head as if to say, "Look into the sky." At that precise moment, a bald eagle was flying directly overhead with outstretched wings (just as my arms were), soaring effortlessly. I knew it was God telling me, "I see you worshipping me with all your heart. I will continue to raise you up like the eagle. Soar! I'm the wind beneath your wings."
On another day I was walking alongside the Youth With A Mission (YWAM) campus on a country road that bordered their land. I had never walked this particular road before, but felt drawn in that direction once I had stepped out of the car in the YWAM parking lot. I had been feeling somewhat distanced from God, but I was also experiencing a deep longing to feel His intimate presence once again. I began to pray, Lord, I'm embarrassed to even ask you this, but will you give me a reminder of your love for me? I know your love never changes, but will you remind me what it feels like to know beyond a shadow of a doubt that I am your beloved? As I continued to walk further down the road, I noticed white spray paint covering much of the road ahead and spanning about a tenth of a mile or so. As I got closer, I recognized the first white mark as a "W"… then an "I"… followed by an "L L." My heart leaped when I realized that all of these white markings added up to "WILL YOU MARRY ME?"  
Obviously, someone had written out a marriage proposal and perhaps flown his girlfriend over the area to pop the question. The proposal wasn't even meant for you!, Satan whispered in my mind  But then the Lord reminded me, I guided you here to this road where you've never walked before, knowing exactly what you'd see when you walked down it. It may have been written by another's hand, but it comes from my heart. You are my chosen bride, Shannon. I'll cherish that particular walk until the day I die.
God frequently reminds me of my status as His beloved on our walks together. Right around Christmas time last year, I was reflecting on how God must love me like crazy, and my heart was overflowing with passion and joy. I was singing as loudly as I could a song by Darlene Zschech about how "I'm living under the kiss of heaven…" Suddenly I sensed God saying, "Hey, whoa! Don't miss this. I've got a Christmas present just for you, Shannon. Look up." I looked up, and the gigantic tree I just "happened" to be passing under was completely bare of leaves, but dangling from the bare branches were huge clumps of mistletoe. I looked all around and didn't see another tree like it anywhere. Butterflies swarmed in my stomach as I envisioned Jesus standing over me with mistletoe dangling above my head with great anticipation on His face that I would allow Him to grant me His kiss from heaven. I puckered up and blew Him the biggest kiss I possibly could, and I envisioned His face beaming over my sentiment. If I could have done a triple back flip without breaking my neck, I'd have done one at that moment.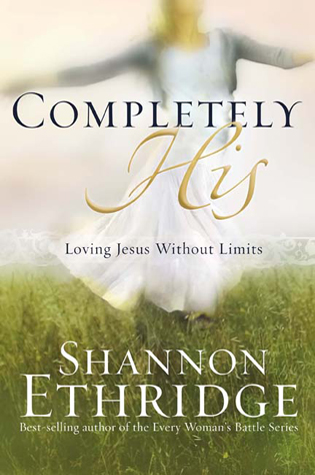 Excerpted from 
Completely His: Loving Jesus Without Limits
by Shannon Ethridge. Copyright 2007.  All Rights Reserved. Published by WaterBrook Press, Colorado Springs, CO 80921. Used by Permission. Not to be copied without Publisher's prior written approval.