If you've given birth, you know that before you experience the sweet joy of holding that baby in your arms, you first have to go through a period of discomfort and pain. There's the fear that you will be pregnant forever, as nine months can feel more like nine years. And of course, there is the pain of contractions, labor, and delivery. But then comes the greatest joy most of us have ever experienced — gazing into our child's perfect little face and daydreaming of what he or she may someday become.
The process of giving birth to God's dreams is similar. We go through seasons of preparation, periods of waiting, and times of discomfort and pain before we can experience the joy of giving birth. But that joy is so indescribably wonderful that it makes all the preparing, waiting, and labor well worth it!
…For me, the hardest part of giving birth wasn't the labor or delivery, but rather the long months of waiting, waiting, and more waiting. I often had dreams that I was allowed to take my baby out of my womb and just hold it and look at it for a while as long as I put it back to finish "baking." Every ounce of my being longed to see, feel, and experience that which would eventually be birthed through me. I didn't want to wait any longer than absolutely necessary. My biological children were very accommodating to my impatient personality. Erin arrived two weeks early and Matthew came three weeks early. However, spiritual pregnancies don't necessarily follow the same forty-week gestation rule as physical pregnancies. God has His own timetable for bringing His dreams to life, and we must trust that the Great Physician knows exactly when it is time to deliver.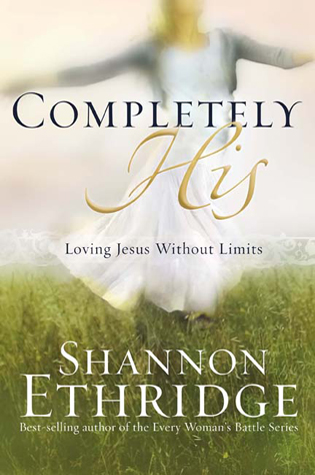 Excerpted from 
Completely His: Loving Jesus Without Limits
by Shannon Ethridge. Copyright 2007.  All Rights Reserved. Published by WaterBrook Press, Colorado Springs, CO 80921. Used by Permission. Not to be copied without Publisher's prior written approval.