This world is jam-packed with temptations, tests, trials, and tribulations. Jesus said so Himself when He proclaimed, "In this world, you will have trouble…" However, He doesn't leave us there. In the same breath, He also says, "but take heart! I have overcome the world" (John 16:33 NIV). In other words, the power that Jesus Christ provides to all who believe in Him is greater than the power the world has over us.
Clearly, Jesus doesn't promise to remove all our recurring troubles. But He has given us the power to survive them and even to thrive in spite of them. That's what being an overcomer is all about.
Jesus didn't leave us to face our troubles alone. He sent His Holy Spirit to be our personal, on-call 24/7, never-charge-you-a-dime, incredibly insightful counselor. Through the Holy Spirit, we gain the necessary power to transcend our struggles and the strength to endure the temptations that this world throws our way. The Holy Spirit is like one of those Russian nesting dolls that contains many other dolls placed inside one another. Along with the gift of resurrection power, we also receive many other gifts, including greater understanding and peace of mind and heart. Jesus' words remind us of these gifts that God gives us through the Holy Spirit.
"But when the Father sends the Counselor as my representative-and by the Counselor I mean the Holy Spirit-he will teach you everything and will remind you of everything I myself have told you.
"I am leaving you with a gift-peace of mind and heart. And the peace I give isn't like the peace the world gives. So don't be troubled or afraid" 
(John 14:26-27).
Paul's words to the people of Philippi also remind us that we can experience Jesus' resurrection power as we depend on Him:
I no longer count on my own goodness or my ability to obey God's law, but I trust Christ to save me. For God's way of making us right with himself depends on faith. As a result, I can really know Christ and experience the mighty power that raised him from the dead. I can learn what it means to suffer with him, sharing in his death, so that, somehow, I can experience the resurrection from the dead!
I don't mean to say that I have already achieved these things or that I have already reached perfection! But I keep working toward that day when I will finally be all that Christ Jesus saved me for and wants me to be. 
(Philippians 3:9-12, italics mine).
A divine counselor. Peace of mind and heart. The same power that resurrected Jesus from the dead. These are not things that Santa or the Tooth Fairy can deliver. Only the Holy Spirit can give us such extraordinary gifts. We can't buy them, even with the combined net worth of the world's richest people, including Bill Gates, Oprah, and Warren Buffet. God's gifts are priceless. And believe it or not, they are sufficient to help you live in a way that demonstrates the depth of your love and commitment to the Giver of those gifts.
No temptation is too strong. No test is too difficult. No trial or tribulation is too taxing. With the Holy Spirit as our guide, the peace of God on our side, and Jesus' 24/7 resurrection power, we are more than conquerors (Romans 8:37). We are the pure and holy bride of Christ. While we can't live perfect lives this side of heaven, we can be perfected (improved more and more) through the power that the Holy Spirit makes available to us.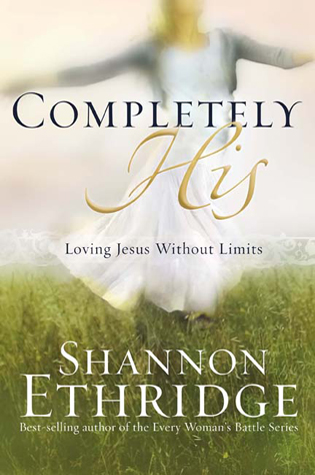 Excerpted from
Completely His: Loving Jesus Without Limits 
by Shannon Ethridge. Copyright 2007.  All Rights Reserved. Published by WaterBrook Press, Colorado Springs, CO 80921. Used by Permission. Not to be copied without Publisher's prior written approval.