Greg was out of town and I had sent our children to their grandma's so I could fast and pray about a new season of ministry I felt we were about to enter. Late in the day, my hunger pangs reminded me just how little I enjoy fasting. Determined to pray through them, I opened my Bible and came upon Matthew 9:14-15, "One day the disciples of John the Baptist came to Jesus and asked him, 'Why do we and the Pharisees fast, but your disciples don't fast?' Jesus responded, 'Should the wedding guests mourn while celebrating with the groom? Someday he will be taken from them, and then they will fast.'"        
I looked in a New Testament commentary for further explanation of this passage and read, "Bridegroom's attendants fasting while the feast is in progress! How absurd, says Jesus as it were. Disciples of the Lord mourning while their Master is performing works of mercy and while words of life and beauty are dropping from his lips, how utterly incongruous!"   It occurred to me that Jesus was saying, "Now is not the time to fast, Shannon. I am with you! This should be a time of celebration!" but I wanted to make sure it wasn't just my extreme hunger talking, so I asked for further confirmation from His Word. I soon came across verses such as "Taste and see that the Lord is good" (Psalm 34:8) and "Look! Here I stand at the door and knock. If you hear me calling and open the door, I will come in, and we will share a meal as friends" (Revelation 3:20-22, italics mine). That last scripture cinched it for me. I knew God was inviting me to dine with Him. To feast in His presence rather than fast.
I went to the kitchen to see what I could find to eat that would be appropriate for such an occasion. Peanut butter and jelly or canned ravioli would never do, so I reached into the freezer and came up with a petite filet mignon, broccoli and cheese sauce, and Sara Lee strawberry cheesecake. As I prepared my feast, I sensed God saying, "Set the table for four. There will be four of us dining tonight. We're all coming, so let's make it a dinner party!" So I set a place for each person–God the Father, Jesus the Son, the Holy Spirit, and myself. I created a warm, festive mood with fine china and silver, linen napkins, fragrant candles, and soft music in the background.
Of course, I enjoyed the food, but I enjoyed the conversation most of all. For almost two hours, I expressed my love and thanks for specific ways the triune God had helped our family in the past. I asked questions about this new season of ministry we were about to enter into, and listened as He spoke to my heart with words of encouragement. While some would think me crazy to pretend to have dinner with imaginary guests, I know it was much more than that. It was a private feast with intimate friends. And it was wonderful. I felt so very honored and overwhelmed that I had been invited to dine with such distinguished guests.
If you have read any of my other books, you know that my relationship with God hasn't always been this intimate and satisfying. Many times throughout previous years I sat at dinner tables across from various men while starving for any attention and affection they might toss my direction. But no dinner invitation has thrilled me the way that this invitation did. Recognizing that the creator of the universe wanted to have an intimate dinner with me caused every fiber of my being to want to respond with a resounding, "Yes!" It inspired within me a deep passion and a desire to express the depth of my love.
REFERENCE
1) William Hendriksen, New Testament Commentary: Exposition of the Gospel According to Mark, Grand Rapids, MI: Baker Book House, 100-101.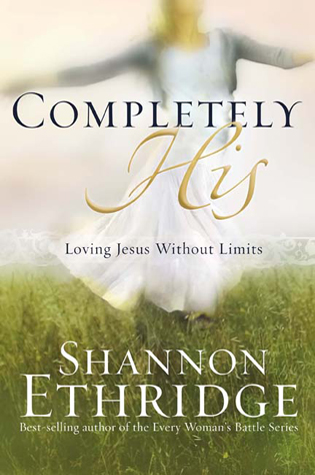 Excerpted from
Completely His: Loving Jesus Without Limits 
by Shannon Ethridge. Copyright 2007.  All Rights Reserved. Published by WaterBrook Press, Colorado Springs, CO 80921. Used by Permission. Not to be copied without Publisher's prior written approval.