At this point some of you are likely thinking, But, Shannon, I've never looked to anything but God to satisfy me. I read my Bible frequently, and I am active in my church and trying to live a pure life. But for all my efforts, God still seems far away. I don't seem to have the close relationship with Him that you seem to have. What's up with that?
I've come to learn that the things of God do not necessarily equate to God Himself. Service and Bible study do not always translate into intimate time spent with Him. In our humanness, we are perfectly capable of doing good works and studying our Bibles completely separate from the Lord. Sometimes we think we are experiencing God Himself when what we've done is settled for an imposter.
Are there things — even good things — you do for God in place of pursuing His presence as a person? What things make you think you are experiencing God when you are really just doing things for God? Perhaps you, like me, have found service and study to be tempting substitutes.
I fell into this trap in my early days of youth ministry. I had the Jesus posters on my office walls and an entire wardrobe of t-shirts with scripture slogans. I spent every Sunday and Wednesday leading a youth group, and most days in between preparing for yet another topical lesson, Bible study, or mission project. I spent hours counseling teens and their parents and led summer camps every year where many came to know Christ or to recommit their lives to Him. But I've come to recognize that God was not working  through me as much as He was working in spite of me.
What was my problem? My motives. Rather than seeking intimacy with Him, I was meeting with God only to get a handout of something I could use in my ministry. I was trying to impress other people and convince myself that I was really a good person. I thought that if I could outweigh the unrighteous acts in my life with enough righteous acts, then I'd be acceptable to God and others and feel better about myself. My goal wasn't a selfless one of serving my Lord, but a selfish one of serving my own self-esteem. My spirituality was a false persona, a mask that I hid behind so that others would think that I was holier than I really was.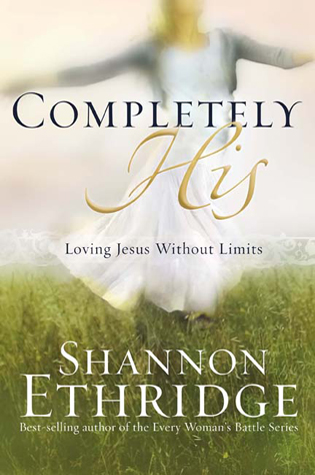 Excerpted from
Completely His: Loving Jesus Without Limits 
by Shannon Ethridge. Copyright 2007.  All Rights Reserved. Published by WaterBrook Press, Colorado Springs, CO 80921. Used by Permission. Not to be copied without Publisher's prior written approval.