The same question has been posed by several well-intentioned, marketing-minded friends:  "Why didn't you call it The Sexually Confident Woman instead of The Sexually Confident Wife?"  While I appreciated their encouragement to reach a larger audience, the suggestion simply never sat right with me. 
I'm not so sure that a single woman struggles nearly as much with sexual confidence as married women do.  Marriage is intended to be a rich, rewarding relationship that provides a unique bond between a husband and wife, and a lifelong commitment is potentially the greatest source of comfort and strength one could experience in their lifetime.  But marriage requires hard work, and the sexual aspect of the relationship is no different.  When things become difficult in the bedroom, it can be a real temptation for a wife to withdraw both physically and emotionally rather than putting forth the effort to keep things fresh and exciting. 
On the other hand, it's not hard for a single woman to keep sex fresh and new when her relationship is fresh and new.  She is often wined, dined, and romanced.  But the more typical scenario for the married woman is an evening meal of leftovers from the fridge, followed by dinner dishes, writing out bills and balancing the checkbook, helping kids with homework, baths, and bedtime stories, and switching a load of laundry so everyone will have clean clothes to wear the next day.  She may crawl into bed exhausted wondering Does he even recognize all I do around here?…  Does he understand how much I long to feel appreciated and affirmed?…  Will he understand if I'm simply not in the mood tonight?… Does he still think I'm beautiful even with these stretch marks and post-pregnancy pounds?…  Does he still love me after all these years?
When a single woman seduces her man, she's a rock star in his eyes. But the married woman can feel more like a falling star.  After a decade or three of marriage, she may find it difficult to come up with any technique or position they haven't already tried hundreds of times.  She may even feel a deep sense of rebellion rising up to declare, "I don't even like sex any more!"  Or worse, she may be sexually interested, only to have her husband lose interest in her.  Ouch!
I'd even go so far as to say that a single man and woman aren't even having real sex.  They're having "best-foot-forward" sex (or whatever body part you want to use to describe it).  They're only showing each other their good side, then retreating to the safety of their singleness.  In marriage however, there's no retreating.  Living in close quarters all these years, we see not just the good, but also the bad and the ugly, both in our husbands and in ourselves.  We have to learn to arouse and be aroused by one another from day to day, month after month, year after year, in spite of those little idiosyncrasies that can drive us crazy at times.
Indeed, sexual confidence can be a great challenge for a married woman, but I believe The Sexually Confident Wife is going to help you on many different levels – emotionally, mentally, physically, and spiritually.  Rather than feeling as if sexual confidence is unrealistically required of you as a wife, I hope these posts will truly inspire it in you.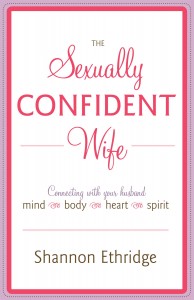 by Shannon Ethridge. Copyright 2008.  All Rights Reserved. Published by Random House Inc, New York, NY. Used by Permission. Not to be copied without Publisher's prior written approval.