While entire books have been written and ministries formed around the science and art of properly interpreting the Bible, here are a few questions that you can ask yourself to better understand God's Word.
1. Who is the writer of this passage and who was the audience?*
2. What was the historical
or cultural circumstances that prompted the author to write what he did?*
3. What did the author say in the chapters and verses just prior to and after this passage? How does the passage "fit" into the bigger picture of what the author is saying?
4. Consider the general literary form and how the author intended his words to be understood. For example, poetry (such as the Psalms) is usually interpreted figuratively, whereas prose (such as the gospels of Matthew, Mark, Luke, and John) is interpreted literally and apocalyptic literature (such as Daniel and Revelation) is interpreted symbolically.
5. Are there particular words that you need to look up or research to find the true definition?**
6. Ask, "What can I learn about God from this passage? Where is He and what is He really doing in this situation?"
7. Ask, "What can I learn about human nature from this passage? Is this character responding appropriately or inappropriately to what God is doing in this story?"
8. Determine what principle we need to learn from this passage of scripture. What is the heart of the message that the author was trying to express?
9. Determine if the principle needs to be translated to our modern culture. For example, to "greet one another with a holy kiss" (Romans 16:16, 1 Corinthians 16:20, 2 Corinthians 13:12, 1 Thessalonians 5:6) may have been fine in that culture, but in our modern culture it might be considered inappropriate to kiss everyone we meet. The scripture could be understood today as, "greet one another with a hearty handshake." The idea is that we greet one another warmly, not the form of greeting we use.
10. Compare your analysis with the analysis of others to make sure you understand the passage correctly.***
Don't settle for just reciting a few memory verses or listening to a weekly sermon. We must encounter God in the pages of the Bible. The difference between being spoon-fed a Bible story versus witnessing it come alive in our hearts, minds, and spirits is like the difference between reading a book on poverty versus standing in line at a soup kitchen with a homeless mother and her five hungry children. There is a life-changing difference between knowing about God and knowing and experiencing God personally.
If you want to understand who God is, and to be convinced that you are His chosen bride, get into His Word. There you will begin to understand who you would be without His grace, as well as who you are because of His grace. Learn to live the Word, breathe it, chew on it, digest it, and allow it to nourish the core of your soul. Allow it to change you from the inside out!
* In most study Bibles, this information can be found in the introductory pages just prior to each book.
** Many different books and websites can help you research a word's meaning. For example: www.crosswalk.com, www.bible.org, or www.biblegateway.com.
*** You can use a number of different Bible commentaries to compare your findings with others'. My personal favorite is the Abridged Edition of The Expositor's Bible Commentary by Kenneth L. Barker and John R. Kohlenberger III (Grand Rapids, MI: Zondervan, 1994).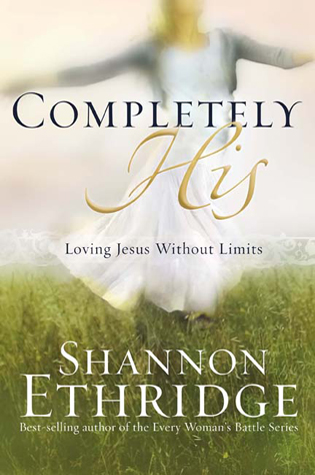 Excerpted from
Completely His: Loving Jesus Without Limits
by Shannon Ethridge. Copyright 2007.  All Rights Reserved. Published by WaterBrook Press, Colorado Springs, CO 80921. Used by Permission. Not to be copied without Publisher's prior written approval.