Of course, there are times when the only things required to prepare for a fantastic sexual experience is pure passion and an amorous attitude.  For example, the other night the kids were both away and Greg and I were walking around our 100-acre plot of land by ourselves.  I spotted the trampoline nestled among several pine trees and gravitated over to it, leading Greg by the hand into this private haven.  Even though I had a to-do list a mile long awaiting me inside, I decided there was nothing more important than surprising Greg's socks off, as well as all other articles of clothing.  But I had exercised hard that day, and was all sweaty and gross.  I was still wearing my grungy cycling shorts and t-shirt, a far cry from sexy bikini underwear or a slinky nightie, but I figured I'd better seize my moment for shock value.
Unaware of my plan, Greg sat down in a lawn chair beside the trampoline as I hopped on and began jumping.  His eyes began to twinkle when he figured out what I had in mind as I began stripping down piece by piece.  When he climbed up and joined me, I offered to run inside, shower, shave, put on something a little sexier, and rejoin him on the trampoline momentarily, but we couldn't stop kissing, or hugging, or touching.  We didn't stop.  We simply kept going until we collapsed under the pine trees, breathless and sweatier than ever. 
I laughed afterward, explaining that I was currently writing a chapter on developing a Girl Scout mentality and always being prepared for a spontaneous sexual encounter, but that I just failed my own course.  Greg replied, "A sexually confident wife certainly needs a 'Girl Scout' mentality at times.  Other times she just needs a 'Nike' mentality — Just do it!"
Greg's right.  Just do it, girlfriend.  Prepare however you can, do it as often as you can, and enjoy every minute of it!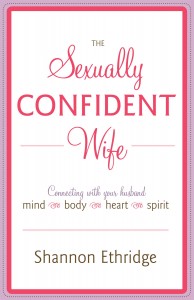 by Shannon Ethridge. Copyright 2008.  All Rights Reserved. Published by Random House Inc, New York, NY. Used by Permission. Not to be copied without Publisher's prior written approval.