In the fourth chapter of John's gospel, we see how Jesus bucked the social pecking order when He went out of His way to speak privately with a Samaritan woman. He could see this gal was thirsty, not just for the water found in the well, but for living water found only in the Messiah. He didn't mince words as He lovingly reminded her that she'd had five husbands and was now living with a man she wasn't married to.
Standing spiritually naked before Him, she recognizes Jesus must be a prophet, but then He takes the blinders off her eyes when He reveals Himself as one who can offer what her soul longs for most. You see, Jesus knew that He was the only one who could provide the love that continued to elude this woman relationship after relationship. He knew she was thirsty for something real. He wanted to satisfy her in a way that no other man possibly could, so He offered her living water so that she would never have to go thirsty again. What woman doesn't want that?
As I sat down in the spring of 2000 to create what would be the first of many books addressing female sexuality, I had a clear vision of what my first work should be titled– Words of Wisdom for Women at the Well: Quenching Your Heart's Thirst for Love and Intimacy. However, had I never dug through Scripture and mined the precious treasures from the story of the woman at the well, I would never have been inspired to write such a book, or perhaps any other book. I saw myself in the woman at the well, and I saw God's merciful heart in His loving response to her.
Perhaps you want to deepen your relationship with God, but it hasn't occurred to you that the best way to do this is by simply by allowing Him to give you glimpses into His character through His Word. As you read the Bible, are you inviting Him to help you identify with the characters written about in the Scriptures? Are you looking to see how God has wooed and pursued humanity into a love relationship with Him? In the book Biblical Preaching, Haddon Robinson explains how we can approach God's Word so that we can get the most from it:
God reveals Himself in the Scriptures. The Bible, therefore, isn't a textbook about ethics or a manual on how to solve personal problems. The Bible is a book about God. When you study a biblical text, therefore, you should ask, "What is the vision of God in this passage?" God is always there. Look for Him. At different times He is the Creator, a good Father, the Redeemer, a rejected Lover, a Husband, a King, a Savior, a Warrior, a Judge, a Reaper, a vineyard Keeper, a banquet Host, a Fire, a Hen protecting her chicks, and so on…
Not only is it important to look for the vision of God in a passage, but you will also want to look at the human factor. How should people in the biblical text have responded to this vision of God? How did they respond? Should this vision of God have made any practical difference in their lives? This human factor is the condition that men and women today have in common with the characters in the Bible. The human factor may show up in sins such as rebellion, unbelief, adultery, greed, laziness, selfishness, or gossip. It may show up in people puzzling about the human condition as a result of sickness, grief, anxiety, doubt, trials, or the sense that God has misplaced their names and addresses. It is this human factor that usually prompted the prophets and apostles to speak or write what they did.1
Indeed, the Bible is a book written for us today. It may have originated centuries ago, but its truths are timeless treasures that we desperately need to apply to our own lives.
 REFERENCE
(1) Haddon W. Robinson, Biblical Preaching (Grand Rapids, MI: Baker Academic, 2003), 94-95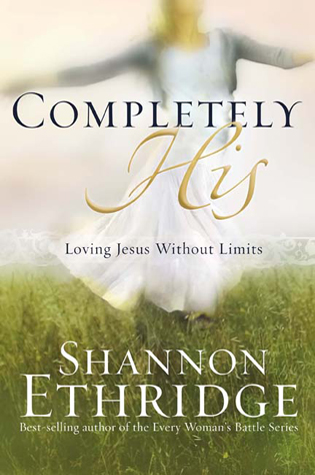 Excerpted from 
Completely His: Loving Jesus Without Limits
by Shannon Ethridge. Copyright 2007.  All Rights Reserved. Published by WaterBrook Press, Colorado Springs, CO 80921. Used by Permission. Not to be copied without Publisher's prior written approval.