One day as Greg and I were making our wedding arrangements, I begged him to go with me to a bridal shop and watch me try on dresses. I know, I know … the groom isn't supposed to see the bride in her dress until the wedding day. I didn't intend to buy a dress at that particular shop on that particular day. I just wanted to get his opinion on the styles of dresses that he liked and disliked. I didn't want to walk down the aisle with him thinking, "Oh, my! Why did she pick that dress?"
We walked into the store and the attendant gathered a dozen or so dresses of varying styles for me to try on. I walked out of the dressing room wearing the first dress, a candlelight white Alyssa gown adorned in crystal beads across the chest, shoulders, and train. At over $2,000, it was way out of my price range, but I wanted to get Greg's response to the style, so I walked out wearing it just to see his reaction. No amount of preparation could have readied me for the stunned look on his face.
"That's the gown, Shannon!' he insisted.
"No, it can't be 'the gown,' Greg! You can't see me in it, and I can't afford this one, anyway!" I replied.
I tried on the other eleven dresses, but every time I'd walk out Greg would just shake his head from side to side and say, "Nope. The first one is it."
I left the bridal shop more discouraged than encouraged. Even if I decided to break tradition and wear the gown Greg had already seen me in, I simply couldn't afford it.
However, two days later Greg showed up at my apartment with a card saying, "Shannon, if you will allow me, I'd really like to buy you that dress as my wedding gift to you." He knew I couldn't afford to buy the dress, but he could, so he did.
Hasn't God done the same for each of us? He knew we could never purchase our own garments for the wedding supper of the Lamb, but He could, so He did.
Perhaps you are wondering, what is the wedding supper of the Lamb?  We'll discuss that next time!

to be continued…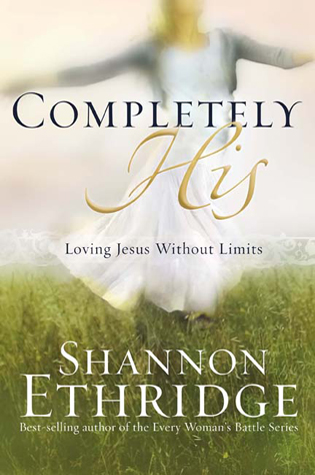 Excerpted from
Completely His: Loving Jesus Without Limits
by Shannon Ethridge. Copyright 2007.  All Rights Reserved. Published by WaterBrook Press, Colorado Springs, CO 80921. Used by Permission. Not to be copied without Publisher's prior written approval.