Just before I walked down the aisle toward Greg, I had to chase away tormenting thoughts such as I just wish I had saved myself for Him! I hate it that I can't give my husband the gift of my virginity like he'll be giving me tonight! But guess what? At the wedding supper of the Lamb, I'll have absolutely no regrets. All of my guilt and shame have been completely washed away by what Christ has already done, and I will know that I am the pure and spotless bride that God intended for His Son.
Consider Paul's words in his letter to the Colossians:
For God was pleased to have all his fullness dwell in [Jesus], and through him to reconcile to himself all things, whether things on earth or things in heaven, by making peace through his blood, shed on the cross.
Once you were alienated from God and were enemies in your minds because of your evil behavior. But now he has reconciled you by Christ's physical body through death to present you holy in his sight, without blemish and free from accusation- if you continue in your faith, established and firm, not moved from the hope held out in the gospel…
We proclaim him, admonishing and teaching everyone with all wisdom, so that we may present everyone perfect in Christ. (Colossians 1:19-23; 28 italics mine)
Perhaps you struggle with feeling less than worthy of God's love because of your unfaithfulness to Him.  Perhaps you can't see yourself as a pure and spotless bride. If so, let me gently lift your downcast face and put some light back in your eyes. Did you catch what Paul said? You are perfect in Christ. You are holy in His sight, without blemish and free from accusation. It doesn't matter that you don't feel worthy because God's lavish love and unconditional acceptance of you isn't based on your worthiness. It's based on His goodness. It's based on the bride price that His perfect Son already paid for you and me. We are no longer just anybody. We are His chosen. We are His beloved bride.
We may remember the sins we've committed in the past, but as far as God is concerned, we've been justified (meaning "just-if-I'd never done those things!"). Our sins are no longer held against us. We've been set free. We've been redeemed. Even in our unfaithfulness, Jesus has betrothed Himself to us forever.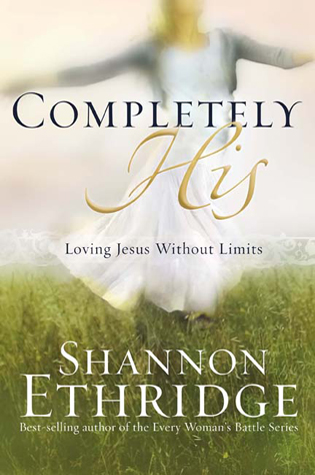 Excerpted from
Completely His: Loving Jesus Without Limits
by Shannon Ethridge. Copyright 2007.  All Rights Reserved. Published by WaterBrook Press, Colorado Springs, CO 80921. Used by Permission. Not to be copied without Publisher's prior written approval.