Although we've historically considered sexual infidelity a "man's issue," women are actually falling into extramarital affairs at almost the same astounding rate (40-65% based on which study you're looking at).  With many women working alongside men outside the home, traveling frequently, carrying cell phones with apps like Snapchat, etc., it's more convenient than ever to have a boy toy on the side. 
While one might imagine that a woman who pursues or gets involved in an extramarital affair is a "sexually confident" woman, I beg to differ.  I've attempted to drink from that stream and it wasn't because I was sexually confident.  It was because I lacked confidence, and had to look elsewhere for the affirmation that I couldn't find within myself and my own marriage.  Besides, simply being a sexually confident woman isn't the goal.  The goal is to be a sexually confident wife.  Our aim is to create a mad, passionate romance and fulfilling love relationship with the man we currently live with and have committed to grow old with.  Making love is easy.  Making love last is far more challenging.
This is exactly why I love doing Women at the Well Workshops with 8-10 participants at a time.  Some who journey into this 4-day Intensive experience have been married for decades.  They lost that loving feeling toward their husbands ages ago, assuming it was never to be found again unless she gets divorced or widowed and finds it with another man altogether.  Others are more newly married, and bewildered at how fast the passion fizzles and sexual interest fades. 
And there are always several who attend who aren't married at all — who are just trying to get healthy enough to entertain a healthier relationship than they've ever been involved with in the past.  We all deserve to give and receive a love worth wanting.
Regardless of the reason, when a woman seeks not just to make love with her body, but to create a lasting love that awakens her fully — mind, body, heart, and soul — that's a beautiful thing! 
Are YOU ready to create a love that will last? 
If so, what are you waiting for?  JOIN US this fall!  Our August workshop is already full with 10 amazing women, but there are a few more spaces for our October 2-5 Workshop in Lansing, Michigan, or November 6-9 in Tyler, Texas.  It will be a journey you (and your current/future husband) will be so glad you invested yourself in!  Go to www.shannonethridge.com/wowintensive to learn more!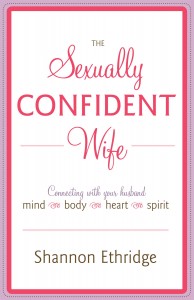 by Shannon Ethridge. Copyright 2008.  All Rights Reserved. Published by Random House Inc, New York, NY. Used by Permission. Not to be copied without Publisher's prior written approval.