Have you ever wondered what God is like, only to look up at a starry sky and sense that there's your answer? As you look at those twinkling constellations, do you have any doubt that God is absolutely brilliant? Or maybe you noticed an abundance of golden daffodils growing alongside the highway and realized, Oh, God is so glorious! I see glimpses of His beauty in the towering pine trees of east Texas, His strength in the majestic mountains of Colorado, His creativity in the ocean waves that crash onto the Pacific shoreline. I hear His heart in the laughter of a child and sense His warmth with the rising and setting of the summer sun. One would have to be deaf, dumb, and blind not to recognize our loving Creator in all of creation. 
Why did God craft such a wonderful world for us to live in? I believe it is all part of His plan to woo us into recognizing what a masterful artist He truly is, and that He paints these masterpieces especially for us.
At his fiftieth birthday party my friend Peter was presented with an original work of art, a painting of a place in France where he had frequented as a child. Everyone at the party gasped at the artist's thoughtfulness in creating such a masterpiece especially for his friend. The artist didn't just pick something up at a store. He didn't just order something out of a catalog. He spent an enormous amount of time, money, and energy to create a gift custom-tailored to touch the recipient's heart.
God also invests an enormous amount of creativity custom-tailoring gifts that touch our hearts. Imagine something that you consider your favorite (your favorite animal, your favorite season, your favorite beach …) and realize it is a glorious gift from a God who knows your tastes better than you know them yourself. He designed the scarlet feathers of a cardinal long before I ever knew they were my favorite bird. He formed sugar cane before I ever developed a sweet tooth and crafted the cocoa bean long before I became a raging choco-holic. He inspired the lyrics to my favorite hymns centuries before I'd ever hear them. His world, my world, is overflowing with personal gifts from a personal God who loves me like no other can. Look around your world, and notice how certain aspects of God's creation seem to have your name written on them, as if God is saying, "This is for you, especially from me."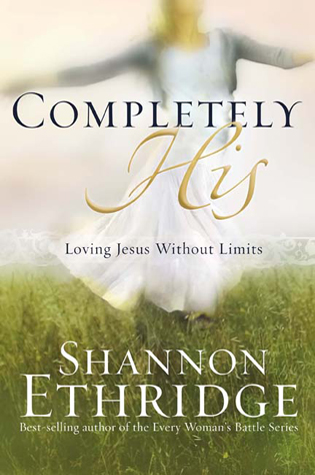 Excerpted from
Completely His: Loving Jesus Without Limits 
by Shannon Ethridge. Copyright 2007.  All Rights Reserved. Published by WaterBrook Press, Colorado Springs, CO 80921. Used by Permission. Not to be copied without Publisher's prior written approval.