With a visual image of another human being [through the use of pornography] introduced into the mix, the temptation can be overwhelming to disconnect from one another and focus on a completely different person – a person with whom you can never have a sexual relationship, or any other type of relationship for that matter.  In fact, most spouses who view porn do so secretly, apart from their mate.  And chances are, they're not taking that sexual energy to bed with their spouse.  They're taking it into their own hands, relieving themselves of their sexual tension through masturbation, and robbing their partner of an intimate sexual experience in the process.  When this happens, sexual energies are squandered in some stranger's direction, rather than focused on your spouse.  In my opinion, the power that sexual intimacy with one another can have in your marriage gets completely diluted in the process. 
The difference between relying on pornography for sexual highs and looking to your spouse for sexual highs is like the difference between a light bulb and a laser beam.  A light bulb's rays fan out in a million different directions, which dilutes its power.  One light bulb will barely illuminate one corner of a room.  When we're looking at hundreds or even thousands of different pornographic actors, we're spreading our sexual energies in a multitude of directions just like that light bulb, so it doesn't make for a real powerful experience. There's no special connection with any of the people involved.  Eventually, we no longer associate sexual passion with personal connection. Rather, we disconnect.  We can easily lose our sexual confidence that just two married people are enough to create a sexual high without the use of silver screens or magazines as a crutch.
However, when we're looking exclusively to our spouse for sexual fulfillment, it's like a powerful laser beam.  A laser beam's light rays are all focused in one direction.  As a result, it is so powerful you can cut metal or perform surgery with it.  By directing our sexual energies toward our spouse, we're able to form a focused, concentrated, powerful bond that can last a lifetime.  I encourage you to form that kind of exclusive bond with your husband, and to expect that kind of exclusive bond from him as well.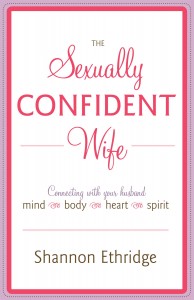 by Shannon Ethridge. Copyright 2008.  All Rights Reserved. Published by Random House Inc, New York, NY. Used by Permission. Not to be copied without Publisher's prior written approval.