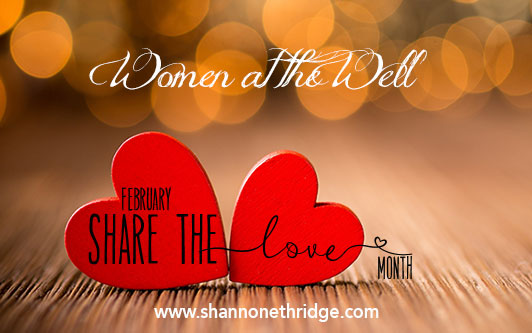 What an exciting MONTH! 
We want to update you regarding our SHARE The LOVE campaign. 
We still need $6,000 to meet our
Matching-Funds Campaign Goal!
It is NOT to late for YOU to help us!
Would you please help us provide more opportunities for women to experience sexual healing and freedom?
Many of you know first hand, Women at The Well 4-day Intensive Workshops is all about that mission.  Whether you are 18 or 108, married or single, acting out or shutting down, Women at the Well provides the tools you need to find a healthy sexual and emotional balance once again.
We want to introduce you to Ann.  Ann has experienced the freedom of Women at the Well Intensive Workshop personally and she is encouraging YOU to join us in these last few days and SHARE The LOVE. 
Please make a LOVE gift this month so more women can experience HEALING from their past, and find HOPE for their future.
To inspire your generosity we would like to send each donor of $100 or more a special

Women at the Well silver charm

, along with one of the following books:
Every Woman's Battle          The Passion Principles       To Know You
Every Woman's Marriage      The Fantasy Fallacy          Veil of Secrets
The Sexually Confident Wife    Completely His 
Ready to Double Your LOVE?
Click here to make your tax-deductible donation toward ANY woman who qualifies for financial assistance…
OR to make a donation toward a particular identified person's scholarship,
Thank you for lifting this matching funds campaign and this entire ministry in prayer!  Together, we can make a HUGE difference in the world by helping one woman at a time, because…
a healthier woman makes a healthier marriage,
a healthier marriage makes a healthier family,
a healthier family makes a healthier community,
and healthier communities make a healthier society!
You can learn more about these workshops by going to:https://www.shannonethridge.com/wowintensive/.
We can't THANK YOU enough for your LOVE and support!