Just as there is an exact moment when the physical labor process begins, the spiritual labor process is often defined by an exact moment–a moment of decision. Will we give up because of the pain? Or will we push through it and experience the breakthrough we've prayed to receive? For me, this moment of decision has often come in the middle of the night. For example, as I prepared to write out my first set of lecture notes (which, as mentioned earlier, would evolve into my first book), I was so distracted during the day that I kept putting it off. I was under the impression that I'd write whenever I got around to it. But any writer will tell you that you don't find time to write. You make time.
So God began waking me up in the middle of the night with a sense of urgency that I must get up and begin working on those lectures. I desperately preferred the sleep over the work. But just as a woman cannot sleep through her labor at the time of delivery, I couldn't return to my slumber. After wrestling with the idea of sleep vs. work for an hour or two, I would eventually get up, go to my study, and get on my face in prayer. Many times I begged God through tears, "Please let me go back to sleep! I don't have anything to write!" But God would gently encourage me to sit down at my computer and write the first things that came to my mind.
During this period, I posted a sheet of paper above my computer with the following words penned by T.D. Jakes in his book, The Lady, Her Lover, and Her Lord:
"God has a plan for you. If you lose your optimism, the enemy has won. Place your hope with the power of God. Place your future in the hands of God. Don't you know that God had something special in mind when He made you? He had a specific role that only you can play. Refuse to forfeit His plan just because of your pain. Bear it like a woman in labor. Know that the pain will pass, and the promise will be delivered. … This is no time to faint now, dear lady. Grab the sides of the bed and push!……you cannot stop until you deliver everything that God has implanted within you. I say to you, lady, ARISE! There is a king within your womb and he is kicking with life in your spirit. It is the child of destiny, the seed of tomorrow, and the wind of expectation. Do not abort it. Nurture it, squeeze it, feed it, but do not lose it. It is the King. It is the Christ in you. The hope and the glory."
As you labor to bring God's dreams to life, you will more than likely experience many temptations to abort the process. Satan will try anything to get you to give up. So when you feel tired, frustrated, and ready to quit, return to your original vision of what God has asked of you. He will be faithful to do all that He has promised, but you must be faithful to submit to the process.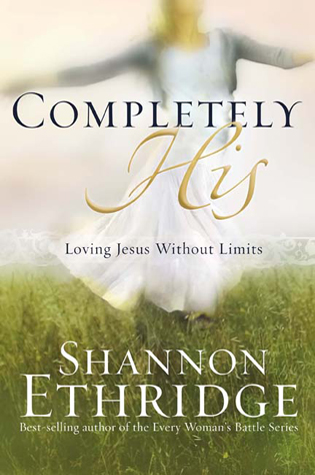 Excerpted from Completely His: Loving Jesus Without Limits by Shannon Ethridge. Copyright 2007. All Rights Reserved. Published by WaterBrook Press, Colorado Springs, CO 80921. Used by Permission. Not to be copied without Publisher's prior written approval.