It has been said that men use conversation as a means of communicating information, but women use conversation as a means of bonding. While communicating and bonding with our spouses, children, or female friends is great, communicating and bonding with men outside our marriage or with men we wouldn't choose to date is dangerous and often destructive. And yes, the more we communicate with a person, the more we bond, so we would do well to take a lesson from the men in this area and learn to stick to business a little better. We can learn to communicate with men in friendly but to-the-point ways that will not jeopardize our emotional integrity.
Whether the relationship is a forbidden one or one you simply would not want to cultivate, here are some specific guidelines that may keep your communication with other men from taking twists and turns that may ultimately lead you down the path of compromise.
Voice-to-Voice Communication
Realizing that any flame can be fanned into a raging fire by private phone conversations, try establishing these boundaries for your time on the telephone:
* If you struggle with going off on inappropriate tangents anytime you have a male listening ear, make your phone calls when other people are within earshot. If that isn't possible, set your timer for five minutes or however long you will need to tend to the business at hand. If you complete your business yet continue to the conversation on a personal level, let the buzzer be your signal to close the conversation and move on to more important things.
* If calling a man from your office is a necessity, use a speakerphone. This is particularly a wise move if you are calling someone who likes to flirt with you or has sent inappropriate signals. I know it is not as personal, but that's the idea. If he suspects that other people could possibly hear everything he is saying, he'll watch every word. And the reverse is true. Pretend that you are on speakerphone and that everything you say could be monitored as well.
* If you were previously involved in a relationship and he continues to call, screen your calls using an answering machine. You are under no obligation to return a phone call to someone you want nothing more to do with, especially if he is trying to reel you back into an inappropriate relationship. If this seems incredibly rude to you, think of it as wise rather than rude. If you have already told him the relationship is over and he is still calling, he's the one being rude. He obviously needs a louder hint, and actions do speak far louder than words! However, if he has a valid reason for calling and you need to return his call, implement the first guideline and return the call when someone else is in earshot, or set an alarm to limit the amount of time and energy you invest in the call. This will keep you from being tempted to let him sweet-talk you back into an unhealthy relationship.
To be continued…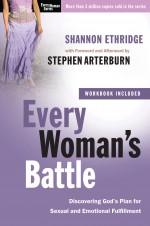 Excerpted from 
Every Woman's Battle: Discovering God's Plan for Sexual and Emotional Fulfillment
by Shannon Ethridge. Copyright 2003. All Rights Reserved. Published by WaterBrook Press, Colorado Springs, CO 80921. Used by Permission. Not to be copied without Publisher's prior written approval.